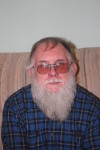 Willard R. "Will" "Terry" Weatherby, 58, of Russell, PA. died Thursday afternoon, January 9, 2014 at U.P.M.C. Hamot, Erie, Pa. after a brief illness. He was born April 21, 1955 in Warren, PA. Son of the late Willard E. and Kathryn Randall Weatherby. Will was a Russell area resident most of his entire life and was a self employed mechanic. He was Executive Producer and Actor in the Jake Mahaffy film "War" in 2004 which premiered at Sundance Film Festival in the Frontiers Section. The film won the Ken Burns Award and other awards. He was an Actor in the Jake Mahaffy film "Wellness" in 2008. This film premiered at the International Film Festival in Rotterdam. The film won Grand Jury Award at South by Southwest Film Festival and many other awards from around the world. He was an avid collector of antiques and local historic articles, especially a collector of tractors. He was a lifelong member of the Russell Volunteer Fire Department and a member of the Pine Grove Lions Club. He enjoyed the outdoors, talking history and spending time at Fox Mart where he was their honorary employee of the month.
He is survived by 1 Son – Willard Daniel "Buddha" Weatherby of Grand Rapids, MI, 2 Daughters – Amy Faye Weatherby-Johnson and husband, Jeremiah of Russell, PA., Katie Marie Schuyler Whitmore and husband, Eli of Meadville, PA., 5 Grandchildren – Takeo and Akayla Weatherby, Peyton Faye, Luke and Daisy Denise Johnson. Close friend, Gloria Britton of Kennedy, N.Y., Mother-in-law, Yvonne Lee of N. Warren, PA., Good friend, Rob Meyers of Russell, PA. He was honored to be a member of the Fox, Ferrie, Robert families.
In addition to his parents, he was preceded in death by a infant son – Jeremy Alan Weatherby, former wife, Denise Meyers, a son – Patrick John Weatherby who died December 14, 2011. There will be no visitation or funeral services observed. A celebration of his life will be Saturday, January 18, 2014 at 11:00 A.M. at the Russell Volunteer Fire Department Social Hall. The family suggests memorial contributions to Russell Volunteer Fire Department, 111 Perrigo Lane, Russell, PA. 16345-0066 or the Pine Grove Township Lions Club, P.O. Box 488, Russell, PA. 16345.
E-mail condolences may be sent by visiting www.lewisfuneralhomeinc.com Family has entrusted the Donald E. Lewis Funeral Home, Inc. to provide final arrangements.