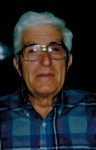 Frank C. Saporito, who celebrated his 85th Birthday, Sunday, June
15, 2014 at the Rouse Warren County Home died at 1:15 A.M.
Monday, June 16, 2014 after suffering an apparent heart attack.
He was born in Kinzua, PA. June 15, 1929 to the late Pasquale and
Antoinette Brindis Saporito. He has resided most of his entire life
in Warren, PA. Frank was a self-employed cement contractor,
working for over 50 years, retiring in 1991. He was a member of
St. Joseph R.C. Church, Warren Council of the Knights of
Columbus, Bricklayer/Masonry Local Union. He enjoyed
spending his mornings meeting with the McDonald Breakfast
Group, he was an avid hunter and fisherman. He is remembered
as always being a hardworker.
He is survived by his 5 Sons – Ronald Saporito and his wife,
Mona, Tim Saporito and wife, Kathy Herron, Donald Saporito
and wife, Brenda, David Saporito all of Warren, PA., Frank
Saporito and wife, Kandy of New Port Richey, FL., 1 Sister – Rose
M. Eck of Warren, PA., 9 Grandchildren, 3 Step Grandchildren, 5
Great Grandchildren, several nieces and nephews.
In addition to his parents, he was preceded in death by his wife of
61 years, Elizabeth "Betty" Musante Saporito who died June 28,
2010, whom he married October 23, 1948 in Warren, PA. and 7
Brothers – Anthony, Thomas, Ross, Dominic, Thomas, Robert,
and Charles Saporito, 1 Sister – Mary Ann Walter.
Friends may call at the Donald E. Lewis Funeral Home, Inc., 304
East Street, Warren, PA. on Thursday, June 19, 2014 from 2 to 4
and 6 to 8 P.M. where a vigil service will be conducted at 7:45
P.M. by Deacon Raymond Wiehagen. A Mass of Christian Burial
will be conducted Friday, June 20, 2014 at 10:00 A.M. at St. Joseph
R.C. Church with Fr. Richard J. Toohey, pastor, officiating.
Interment will be in St. Joseph R.C. Cemetery. Those wishing to
place memorials may do so through Hunt of a Lifetime, 6297
Buffalo Road, Harborcreek, PA. 16421 or the Boy Scouts of
America, Chief Cornplanter Council, 316 Fourth Avenue, Warren,
PA. 16365 or a Charity of one's Choice. E-mail condolences may
be sent by visiting www.lewisfuneralhomeinc.com