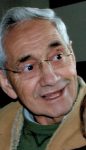 Francisco "Frank" J. Cataldo, Jr., 85, of Clarendon, PA., died
peacefully Thursday evening, November 30, 2017 after an
extended illness. He was born June 9, 1932 in Kinzua, Pa., son of
the late Francesco and Santa Bruno Cataldo. He was a lifelong
Kinzua and Warren area resident. He was employed as a
carpenter with the Local Carpenters Union, for over 50 years.
Frank was of the Catholic faith and loved hunting and spending
time at his camp, with his children, grandchildren and great
grandchildren.
He is survived by his three children – Debra Bogniak and
husband, John of Russell, PA., Linda Michel and husband, Tom,
Frank J. Cataldo, III and wife, Karen all of Warren, PA., 1 Brother
– Joseph J. Cataldo, Jr. of Sugar Grove, PA., 1 Sister – Rosina
Horvoth and husband, Joseph of Mentor, Ohio, 11 Grandchildren
– Michelle Bankoske of Ocean Springs, Miss., Amanda Lester and
William Jerman both of Warren, PA., Kathryn Miller of
Harrisburg, PA., Michael Bogniak of Russell, PA., Sarah Bogniak
of Clarendon, PA., Jessica Bigknife of Sterling, VA., Patricia
Bogniak of Erie, PA., Joey Austin of Corry, PA., Kelsy and Libby
Cataldo of Warren, PA., 8 Great Grandchildren – Michael and
MacKenzie Lester of Warren, PA., Jonathan and Emily Bogniak of
Russell, PA., Micah and Naomi Miller of Harrisburg, PA.,
William Jerman III of Warren, PA., Brookelyn, Graceyn and
Tobyn Bankoske all of Ocean Springs, Miss., and Baby Girl
Bigknife due in February 2018, several nieces and nephews.
In addition to his parents, he was preceded in death by his wife of
51 years, Shirley B. Olson Cataldo whom he married at St.
Callistus R.C. Church, Kane, Pa., on June 19, 1954 who died
February 22, 2006, 1 Sister – Theresa Dawes, 2 Brothers – Umberto
F. Cataldo and Charles M. Cataldo.
Friends may call at the Donald E. Lewis Funeral Home, Inc., 304
East Street, Warren, PA., on Monday, December 4, 2017 from 6 to
8 P.M. where a vigil service will be conducted Monday at 6:00
P.M. with Deacon Joseph Lucia, presiding. A Mass of Christian
Burial will be conducted at 10:00 A.M. Tuesday, December 5, 2017
at Holy Redeemer R.C. Church, 11 Russell Street, Warren, PA.,
with Fr. James Gutting, Pastor, officiating. Interment will be in St.
Joseph R.C. Cemetery. Those wishing to place memorials may do
so through Alzheimer's Association Greater Pennsylvania
Chapter, 110 West 10th Street, Erie, PA. 16501 or the Warren
Manor Patient Activities Fund, 682 Pleasant Drive, Warren, PA.
16365. E-mail condolences may be sent by visiting