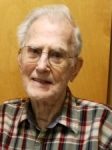 Eugene L. Webster, 91, a resident at The Rouse Suites in Youngsville, PA, and formerly of Warren, PA, passed away Sunday, January 20, 2019, at Warren General Hospital, Warren, PA. Born on May 17, 1927 in Warren, PA, he was the son of the late Herbert and Mabel (Lindemuth) Webster.
Eugene was a plumber and pipefitter for most of his life, working for Steamfitters/Pipefitters Local 27. He enjoyed working with his hands and making things for people. He enjoyed camping in area campgrounds, was an avid golfer, and enjoyed a trip to Spain. He always had a deck of cards with him. His family and friends were paramount to him. Eugene was a member of Covenant United Methodist Church in Warren, PA, and a lifetime member of the church's Pursuader's Class.
Eugene is survived by his wife, Nancy Engquist Webster, whom he married on June 25, 1955 in Jamestown, NY; 4 children – Kim (Gene) Olofson of Jamestown, NY, Kevin (Bonnie) Webster and Daniel (Brenda) Webster, all of Warren, PA, and Kris Webster of Virginia Beach, VA; 10 grandchildren; 6 great grandchildren; a son-in-law, Steve Van Dyk of Middle Grove, NY (his wife Kathy, Eugene's daughter, passed on March 13, 2017.) Eugene is also survived by many nieces and nephews. In addition to his parents and daughter, Eugene was preceded in death by 1 brother and 3 sisters.
Friends may call at Covenant United Methodist Church, 1624 Pennsylvania Ave. East, Warren, PA, on Saturday, January 26, 2019, from 10am – 11am at which time a funeral and committal service will be held with Rev. Ralph Culp, Pastor, officiating. Those wishing to place a memorial may do so to Covenant United Methodist Church. Arrangements have been entrusted to the Donald E. Lewis Funeral Home, Inc., 304 East St., Warren, PA. E-mail condolences may be sent by visiting www.lewisfuneralhomeinc.com