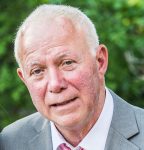 Eugene E. "Gene" Smith, 72, of Warren, PA, passed away on Friday, February 1, 2019, at St. Vincent Hospital in Erie, PA.
Born on November 25, 1946 in Warren, PA, he was the son of the late John Charles Edward and Daisy Virginia Anderson Smith. Gene graduated from Warren Area High School in 1964 and attended Edinboro State College. Gene was a veteran of the Vietnam War, having served with the U.S. Army from 1968-1971. He was employed for over 40 years with United Refining Company, retiring in 2014.
Gene enjoyed bowling, hunting and was an avid golfer, playing at Blueberry Hill Golf Club, and enjoyed watching the Golf Channel. He was a member of the American Legion and a life member of the Warren Elks Lodge. He will always be remembered for his friendly demeanor.
Gene is survived by his 3 daughters – Wendy (Marc) Skaggs, of Harrisburg, PA, Michelle (Cory) Nichols of Sewickley, PA, and Kristin (Kenneth III) Ely of San Diego, CA; 2 grandchildren – Madison and Marlee Skaggs of Harrisburg, PA; 1 brother – Mike (Sandy) Smith of Warren, PA; and 2 nieces. In addition to his parents, Gene was preceded in death by his wife, Janet Vavala Smith, whom he married on July 14, 1973, and who died on March 5, 2014.
Friends may call at the Donald E. Lewis Funeral Home, Inc., 304 East St., Warren, PA, on Tuesday, February 5, 2019, from 10am until 12Noon at which time funeral and committal services will be held with Rev. James Gutting, Pastor of Holy Redeemer R.C. Church, officiating. Interment will be in St. Joseph Cemetery. Military rites will be conducted by members of the John Gertsch Memorial Vietnam Post Funeral Detail. Those wishing to place a memorial may do so to the Michael J. Fox Foundation for Parkinson's Research, Grand Central Station, PO Box 4777, New York, NY, 10163-4777 or at donations@michaeljfox.org, or to the Parkinson's Foundation, 200 SE 1st Street, Suite 800, Miami, FL, 33131, or to www.parkinson.org. E-mail condolences may be sent by visiting www.lewisfuneralhomeinc.com