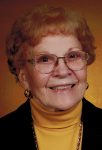 Elizabeth J. (Bette) McFadyen, 93, of Youngsville, PA., died
Thursday, September 22, 2016 at the Warren Manor Nursing
Home. Bette was born in Warren, PA., on August 9, 1923,
daughter of Edward and Eleanore Mack Zimmerman. She was a
resident for 45 years in Pompano Beach, FL. Bette was a 1941
graduate of Russell High School and earned her Master's degree
in Education from the Florida State University in Tallahassee, FL.
She taught 5th & 6th grade at the Lillian Ruddeger Elementary
School and also taught at Hope Lutheran Parochial School. In
1966 she earned her Broker's License in Real Estate and worked in
Pompano Beach and Warren, PA. She was a member of the First
Lutheran Church, the church sewing group, served as a
Eucharistic Minister, served on the Missionary and Stewardship
Committee, taught at vacation Bible School and Sunday School.
She was an active volunteer with the Warren Unit of the
American Cancer Society and Hospice of Warren County. She
was an extensive traveler. She walked the Stations of the Cross in
Jerusalem. She will be greatly missed by all who knew her.
She is survived by her son, Corky Hansen & wife, Karen of
Blairsville, GA., 3 Sisters – Elsie Beckenbach of Macedon, N.Y.,
Jeanne Salman of Jamestown, N.Y., Mary Gordon of Fairport,
N.Y., several nieces and nephews. In addition to her parents, she
was preceded in death by her husband, Donald Phillip
McFadyen whom she married in 1977 in Pompano Beach, FL., 2
Brothers – Robert and Raymond Zimmerman, 1 Sister – Dorothy
North. Friends may call at the Donald E. Lewis Funeral Home,
Inc., 304 East Street, Warren, PA., on Sunday, September 25, 2016
from 6 to 8 P.M. and on Monday, September 26, 2016 at First
Lutheran Church, 109 West Third Street, Warren, PA., from 10 to
11:00 A.M. where a funeral service will follow by Rev. Jeffrey
Ewing, Pastor. Interment will be in Pine Grove Cemetery, Russell,
PA.,
Memorial contributions may be made to First Lutheran Church or
Hospice of Warren County or the Warren Unit of the American
Cancer Society. E-mail condolences may be sent by visiting