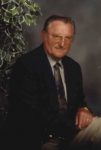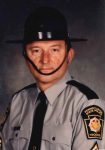 Edwin J. "Sarge" Gorgacz, 85, Pleasant Twp., Warren, PA., died Monday afternoon, October 22, 2018 after an extended illness. He was born August 23, 1933 in New Castle, PA. Sarge was the son of John and Helen Adamczyk Gorgacz. He has resided in Warren since 1974, and was formerly of Uniontown, PA. He was a graduate of Union High School of New Castle, PA., and the Pennsylvania State Police Academy of Hershey, PA. Sarge had served with the U.S. Air Force from 1953 to 1957 where he was a Staff Sergeant, earning the Korean Service Medal, National Defense Service Medal, United Nations Service Medal, Good Conduct Medal.
He was a State Policeman for 35 years, retiring as Sergeant for 20 years, at the Warren State Police Barracks. After retirement, he was employed as a Private Investigator for 10 years. Ed was a member of St. Joseph R.C. Church, was a church usher, member of the cemetery board of directors and Warren Knights of Columbus Council. He was a member of the American Legion Post 135, Eagles Aerie, Warren Moose Lodge 109. Ed loved turkey hunting, trout fishing and spending time with family, and buddies at his hunting camp. He was an avid Notre Dame Football Fan and attended many games at the golden dome.
His family fondly remembers him as a man that loves to talk to people and make you laugh. Love to have a good time and get a good jab in now and then. Everyone called him Sarge, but we called him Hon, Dad and Papa.
He is survived by his wife of 58 years, Dorothy Jendrysik Gorgacz whom he married February 20, 1960 in New Castle, PA.,
4 Children – Joseph Gorgacz of Manhatten, N.Y., Paul Gorgacz and wife, Tracy, Patty Fredericks and husband, Mark all of Warren, PA., Lori McTavish and husband Darren of State College, PA., 8 Grandchildren – Leah, Ryan, Carley, Kelsey, Olivia, Gabrielle, Kyle and Jason. 1 Sister – Joan Kolodziejski and husband, John of New Castle, PA., several nieces and nephews also survive.
Friends may call at the Donald E. Lewis Funeral Home, Inc., 304 East Street, Warren, PA., on Thursday, October 25, 2018 from 1 to 3 and 6 to 8 P.M. where a vigil service will be conducted at 2:45 P.M. by Deacon Joseph Lucia. A Mass of Christian Burial will be conducted Friday, October 26, 2018 at 10:00 A.M. at St. Joseph R.C. Church, 600 Pennsylvania Avenue West, Warren, PA., with Fr. James Gutting, Pastor of Holy Redeemer R.C. Church, officiating. Interment will be in St. Joseph R.C. Cemetery where full military honors will be conducted by members of the Sheffield/Clarendon V.F.W. Funeral Honor Guard and the U.S. Air Force personnel. Those wishing to place memorials may do so through Don Mills Achievement Center, 677 Hospital Drive, #J, Warren, PA., 16365 or St. Joseph School, 608 Pennsylvania Avenue West, Warren, PA. 16365
E-mail condolences may be sent by visiting www.lewisfuneralhomeinc.com