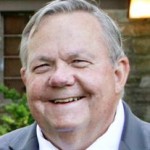 Edward Joseph Geckle, Cincinnati, Ohio, died after a critical illness on Thursday, July 9th, at The Christ Hospital at the age of 70. He was born to the late Edward Thomas Geckle and Martha Geckle Bryan on July 22nd, 1944 in Cincinnati, Ohio. Ed graduated from Elder High School and then received his bachelors from University of Cincinnati and his MBA at University of Maryland.
Ed was a brother in the Phi Kappa Theta fraternity at UC. His fraternal big brother, Jerry Martin, introduced him to the love of his life, Mary Elisabeth Martin. They married on September 21st, 1968 in Warren, PA. In the early years of their marriage, they spent time in many cities until they finally settled down in Ed's hometown of Cincinnati in 1978.
Faith, family and friends were the cornerstones of Ed's life. He was a 4th degree knight with the Knights of Columbus. He served on various boards and committees through the years. His passion was spending time with people and making sure everyone was having a great time. He was the ultimate party organizer at all family gatherings and many German festivals. Ed was an avid fan of the UC Bearcats and Batesville Bulldogs. He enjoyed spending time with his grandchildren and especially attending their sporting events. Family vacations to Warren, Gatlinburg, Massanutin, Baltimore, and Washington D.C. created many memories for his children and grandchildren. He touched everyone around him with his generosity, kindness and beautiful Geckle smile.
Ed is survived by his wife, Mary Martin Geckle of Cincinnati, OH; children Trish (Tim) Hunter of Batesville, IN, Anne (David) Hodges of University Heights, OH, and Jeff (Leah) Geckle of Cincinnati, OH; grandchildren Graham and Julia Hunter and Liam Hodges. He is also survived by numerous in-laws, cousins, nieces and nephews that he loved dearly.
He was preceded in death by his parents, Edward Geckle and Martha Geckle Bryan, his brother, Thomas Geckle and his sister, Mary Rose Geckle.
A committal service will be conducted Thursday, July 16, 2015 at 11:00 A.M. at St. Joseph R.C. Cemetery with Fr. Walter Packard, Pastor of St. Titus R.C. Church, Titusville, PA., officiating. The family requests memorial contributions to the Glenmary Home Missioners. The Donald E. Lewis Funeral Home, Inc. has been entrusted with funeral arrangements.