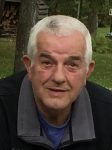 Edward Cowan, 67, of Columbus, PA., and formerly of Sheffield, PA., died surrounded by his family, Friday evening, December 30, 2016 at suffering an apparent heart attack at the home of his granddaughter in Hillcrest Development, Warren, PA., after spending a great afternoon with his grandchildren, seeing the new star wars movie. He was born December 6, 1949 in Kane, PA. He was raised in Sheffield, PA., and lived there for 66 years.
He was the son of Ralph Edwin and Irene Stanko Cowan.
Ed was a 1968 graduate of Sheffield High School. While he was a teenager until he graduated High School, he served as an altar boy at St. Michael Byzantine Catholic Church. He was honorably discharged from the Army National Guard, serving as a PV2, with the 1st battalion, 112th infantry. Ed was employed at G.T.E. Sylvania as an Electroplater, retiring from there in 2006, after 38 ½ years employment. He was a member of the Sheffield United Methodist Church. Enjoyed boating at Kinzua Dam, hunting, fishing, golfing and attending Otters Hockey games in Erie, PA.
He especially enjoyed his rose garden at his home, attending to his swimming pool, basketball court and gazebo. Whenever he was close to a casino, he would get the itch and would have to stop and play the slots. He had served as a coach of baseball, football and basketball. He had an great sense of humor, who could get anyone to laugh. Ed's greatest joy and treasure, was the time he spent with his grandchildren, they were one of the purposes of his life.
He is survived by his wife of 47 years, Debbie Slack Cowan, whom he married December 27, 1969 at the Sheffield United Methodist Church, 2 Children – Jeff Cowan of Pittsburgh, PA., Tracey Morrison and husband, Jason of Sheffield, PA., 2 Sisters – Sandra Lasko of Florida, Mary Ann Preston and husband, Larry of Warren, PA., 1 Brother – Richard E. Cowan and wife, Kathy of Phoenix, AZ., his 6 grandchildren, whom called him, "the world's best papa", Amber Crosby and husband, Cody, Jake Cowan, Job Morrison, Hallie and Helene Cowan, Meredith Morrison. Several nieces and nephews also survive.
Friends may call at the Donald E. Lewis Funeral Home, Inc., 304 East Street, Warren, PA., on Tuesday, January 3, 2017 from 1 to 3 and 6 to 8 P.M. where a funeral and committal service will be conducted on Wednesday, January 4, 2017 at 11:00 A.M. with Rev. Terry A. Teluch , Pastor, officiating. Interment will be in Sheffield Cemetery, Sheffield, PA. Those wishing to place memorials may do so through a Charity of one's choice. E-mail condolences may be sent by visiting www.lewisfuneralhomeinc.com