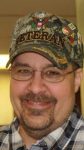 Dwight G. Saulsgiver, 58, of North Warren, PA., died Monday, December 3, 2018 at Veterans Administrative Hospital – Oakland, Pittsburgh, PA., after an extended illness. He was born October 27, 1960 in Westfield, N.Y. Son of Gordon D. and Patricia Ann Davenport Saulsgiver of Lakewood, N.Y.
Dwight was a resident of Warren, PA. for the past 22 years and was formerly of Lakewood, N.Y. He had served with the United States Army as a SP5 and was chef while in the service. Cooking for three Presidents Jimmy Carter, Ronald Reagan, George H.W. Bush and in 1985 cooked for the Olympians. He was a 1978 graduate of Southwestern High School, Jamestown N.Y. and graduated from Jamestown Community College earning an Associate Degree in Human Services. He was formerly employed with United Refining Company and was employed as a chef at numerous restaurants in Jamestown, N.Y. and Warren, PA, and produced beautifully decorated cakes. Dwight wrote beautiful poetry and was a published poet. He was an avid Fisherman and enjoyed building military models. Dwight served God and country with honor and is back to his heavenly home.
In addition to his parents, he is survived by his wife, Tina Edward Saulsgiver of Pittsfield, PA., his companion, Laurie Koman of North Warren, PA., 2 Children – Brittany Edward of Titusville, PA., Katrina Saulsgiver and fiancé Devon Willis of Pittsfield, PA., 1 Brother – Dale Saulsgiver and wife, Kelley of Warren, PA., Paternal Great Grandmother – Emogene Saulsgiver of Panama, N.Y., 2 Grandchilden and another one on the way, several nieces and nephews.
Friends may call at the New Creation Assembly of God Church, 116 South Main Street, Jamestown, N.Y., on Monday, December 10, 2018 from 10 to 11:00 A.M. followed by a funeral service with Rev. Dr. William Blair, Pastor, officiating. Interment will be in Ashville-Maplegrove Cemetery, Ashville, N.Y. Full military honors will follow the funeral service at church with U.S. Army and the Jamestown Vietnam Veterans of America Chapter 865 Honor Guard.
Those wishing to place memorials may do so through Kidney Foundation, %Kidney Transplant Dept., 30 East 33rd Street, New York, New York 10016 or Disabled American Veterans Pittsburgh PA VA Regional Office, 1000 Liberty Avenue Room 1606, Pittsburgh, PA. 15222 or VA Pittsburgh Healthcare System %Fisher House (family/patient residence), 1010 Delafield Road, Pittsburgh, PA., 15215
E-mail condolences may be sent by visiting www.lewisfuneralhomeinc.com The Donald E. Lewis Funeral Home, Inc. has been entrusted with funeral arrangements.