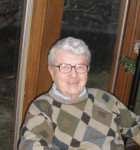 Dr. John Lampe Robertson, 87, of Warren, PA died Saturday, January 30, 2016 at his home after an extended illness.
John was born in Warren, PA on New Year's Day, 1929, the son of the late Catherine Lampe Robertson and Hugh Radle Robertson. Following in the footsteps of his father and grandfather, he studied medicine and then returned home to Warren to open his own office. He was a practicing physician for 60 years, specializing as an internist and in his later years, as a geriatrician.
John was a 1946 graduate of Warren Area High School. He attended the University of Pennsylvania as an undergraduate and as a medical student, and did residencies in Harrisburg, Fort Meade and Detroit before moving back to Warren.
He was an award-winning philatelist, who enjoyed exhibiting his stamp collections which gave him the opportunity to travel and get to know new people.
He was an Eagle Scout, carrying on the tradition of his grandfather who donated the Lampe Lodge at Camp Olmsted. John came from a musical family, and his love and appreciation of music and theater continued throughout his life. He and his wife were active members of the local Shakespeare Club for many years. In his youth, John was known as "Brick" on account of his red hair, and once a letter with no address except: "Brick, the trumpeter, Warren, PA" found its way to his home on Third Avenue. He was an astute financial investor who served on the Endowment Committee of the Trinity Memorial Episcopal Church, and an avid golfer who enjoyed nothing more than spending an afternoon playing eighteen holes with good friends.
John was a humble, kind and generous man, and a devoted husband, brother and father. During the past few years as his health worsened, his appreciation for his life grew: "We all live," he wrote. "We all die, and when we become very ill we understand what are the most important things in our lives."
John was preceded in death by his parents and a younger brother Hugh, who died in childhood. He is survived by his beloved wife of 64 years, Rachel Elizabeth Smith Robertson; his sisters, Susan Robertson Schray of Hillsdale MI and Emily Robertson White of Minneapolis, MN; his five children, Lynn Robertson-Hotz (Paul) of Mountainside, NJ, Kris Robertson-Smith (John) of Falcon Heights, MN, Jane Dobrzanski (Derek) of Hancock, MD, Ann Heilweil (Victor) of Salt Lake City, UT, and William Robertson (Katrin) of Ann Arbor, MI; and his eleven grandchildren, Alexander Hotz, Arda Hotz (Jay), Blake Hotz, Tremearne Hotz, Tyler Robertson-Smith, Alice Robertson-Smith, Tanner Dobrzanski, Nate Robertson, Tessa Robertson, Tasha Heilweil and Anika Heilweil.
Friends may call at the Donald E. Lewis Funeral Home, Inc., 304 East Street, Warren, PA., on Friday, February 5, 2016 from 4 to 6 P.M.
A funeral service will be conducted Saturday, February 6, 2016 at Trinity Memorial Episcopal Church, 444 Pennsylvania Avenue West, Warren, PA., at 10:00 A.M. by Fr. Matthew Scott, Vicar, officiating. Private family interment will take place in Westview Cemetery, Starbrick, PA.
Those wishing to place memorials may do so through Trinity Memorial Episcopal Church, the Warren Public Library or a charity of your choice.
E-mail condolences may be sent by visiting www.lewisfuneralhomeinc.com