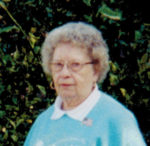 Dorothy M. Burdick Thomas, 85, of Starbrick, PA., died Saturday
morning, July 30, 2016 at Warren Manor Nursing Home after an
extended illness. She was born November 9, 1930 in Warren, PA.
Dorothy was the daughter of Louis L. and Beatrice Slocum
Burdick. She was a Warren area resident most of her life. She
was a 1950 graduate of Tionesta High School and attended Penn
State University at Behrend, Erie, PA., after high school. She was
employed for 14 years at Lorangers as a press operator and
formerly with the former Newell Press Company for 11 years,
retiring in 1996. Dorothy was a member of the First Church of the
Nazarene. Dorothy was one of the most patriotic people, Warren
has known, she especially had great respect and love of the
American Flag. She is remembered for having a most generous
heart.
She is survived by her sister, Alice Tomassoni and husband,
Anthony F. of Warren, PA., 1 Stepson – Mark Thomas of Oil City,
PA., good friend and caregiver, Jesse Henry of Youngsville, PA.,
several nieces and nephews.
In addition to her parents, she was preceded in death by her
husband of 32 years, Leroy E. Thomas whom she married June 5,
1965 in Titusville, PA., who died April 24, 1998.
Friends may call at the Donald E. Lewis Funeral Home, Inc., 304
East Street, Warren, PA., on Wednesday, August 3, 2016, from 6
to 8 P.M. where a funeral service will be conducted on Thursday,
August 4, 2016 at 1:00 P.M. with Rev. Jay Maier, Pastor,
officiating. Interment will be in Oakland Cemetery. Those
wishing to place memorials may do so through Warren First
Church of the Nazarene, 10 Russell Street, Warren, PA. 16365.
E-mail condolences may be sent by visiting