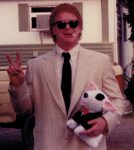 Donald Jeffrey Hoak, "Hoakie," 57, died Sunday, November 27, 2016, surrounded by his daughters, Karestee and Lex, and sister, Kim, at St. Vincent Hospital in Erie, PA. He died from complications of lung cancer.
Don (Jeff) was born on November 28, 1958 to the late Don Hoak, of Roulette, PA, and Phyllis Warner Hoak, of Coudersport, PA.
Don was employed by Penelec of Warren, PA as a Supervisor of Operations for the Line Department at the time of his death. He worked at Penelec for 39 years in various capacities. He was a lineman, worked in the power house, and for 20 years he worked for the Union. Don was business manager for IBEW Local 459 for 10 years and for 10 years prior he was the assistant business manager and Union Representative for local 459. Don was an avid outdoorsman. He loved hunting and fishing and spent many seasons enjoying the outdoors with his good friend, C.B. Goodrich of Roulette, and his uncle, Dennis Hoak, formerly of Warren. Don's greatest treasure was his family and while his work often took him away from home, his family was always first in his life.
Don is survived by two daughters, Karestee R. Hoak of Pittsburgh, PA, and Alexxis M. Hoak and grandson, Titus Kole, both of Warren, PA, two sisters, Kimberley Hoak, formerly of Coudersport, and Clara Hoak, formerly of Los Angeles, CA, an uncle, Dennis (Michelle) Hoak, formerly of Warren, PA, two nieces, Autumn Goodrich Kinnard and Cristol Brooke Goodrich Butter, and great niece, Madison Rylee Goodrich. He is also survived by his former wife and mother of his daughters, Beth Hoak, and numerous close cousins in Buffalo, NY, and Mississippi. Don had no fear of death. He knew he was going to Heaven to be reunited with his family. Don knew he "fought the good fight" his whole life, and he was content in going home to be with his Lord, Jesus Christ.
A Memorial Service will be held Saturday, December 3, 2016 at 1:00 P.M. at First United Methodist Church, 200 Market Street, Warren, PA, with Rev. Jon Swart, Associate Pastor, officiating. Flowers are gratefully declined. Don asked in lieu of flowers, donations be made to The Salvation Army, 311 Beech Street, Warren, PA, 16365. Arrangements have been entrusted to the Donald E. Lewis Funeral Home, Inc., 304 East Street, Warren, PA. E-mail condolences may be sent by visiting www.lewisfuneralhomeinc.com