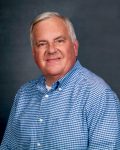 Dennis "Denny" J. Crandall, 64, of Warren, PA passed away on Saturday morning, September 22, 2018 at the John & Orpha Blair Hospice Home following an extended illness. Denny was born September 15, 1954 in Jamestown, NY. He was the son of the late Arthur and Margaret (Pangborn) Crandall.
Denny was a former resident of Busti, NY where he graduated from Southwestern High School in 1972. He moved to Warren, PA in 1975 where he resided for 43 years. Denny worked at Warren State Hospital as a Human Relations Coordinator for eighteen years retiring in 2016. Prior to this he worked in Human Resources for the City of Warren and Guardian Glass Industries, formerly Falconer Plate Glass, in Falconer, NY. He was an active member of First Lutheran Church, Warren, PA where he sat on Church Council, served as an Assistant Minister, rang handbells and sang in the church choir.
An avid lover of baseball, having been a player for many years, he coached Little League baseball and softball. Denny loved his community serving on many committees and volunteering. He served on the Warren Music Boosters as their president, was a proud band dad on the blue bus, worked on numerous All-County, Warren Players and Struthers Library Theater productions and spent many hours watching, driving and loving his kids in the Warren County Youth Connection. Denny also served on the Friends of the Library Theater Board and as the chairman of the Warren Parks and Recreation Commission.
Denny is survived by his wife, Elaine (Jacobson) Crandall whom he married on October 4, 1975 as well as his children: Carolyn "Carrie" Mummert (Chad) of Erie, PA and Joy Crandall McMonigal of Warren. He will be remembered as Papa to his grandchildren Jake Mummert and Izzy McMonigal. Also surviving are his sister Dr. Barbara Crandall-Stotler, his mother-in-law Carolyn Jacobson, his brother-in-law D. Melvin Jacobson, Jr. (Marianne), sisters-in-law Linda Jacobson and Patti Crandall and several nieces and nephews.
In addition to his parents he was preceded in death by his brothers Arthur, David and John Crandall, brother-in-law Dr. Raymond Stotler, father-in-law D. Melvin Jacobson, Sr. and a niece Kimberlea Farren.
Friends and family will be received at the Donald E. Lewis Funeral Home, Inc., 304 East Street, Warren, PA, from 5 to 8 p.m. on Friday, September 28, 2018 and one hour before the Celebration of Life Service. A Celebration of Life Service will be held at First Lutheran Church, 109 W. Third Avenue, Warren, PA on Saturday, September 29, 2018 at 11 a.m. with the Rev. Jeffrey Ewing, Pastor, officiating. In lieu of flowers, contributions may be made to Children's Miracle Network at Geisinger, 100 N. Academy Ave., Danville, PA 17822 or visit www.geisinger.org/sites/cmn; or to Hospice of Warren County, 1 Main Ave., Warren, PA 16365 or visit hospiceofwarrencounty.com; or The John Check Memorial Scholarship Fund, Community Foundation of Warren County, PO Box 691, Warren, PA 16365. E-mail condolences may be sent by visiting www.lewisfuneralhomeinc.com