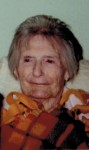 Della E. Meyers, 89, of Warren, PA, died Sunday, August 16, 2015 at the Rouse Warren County Home.
Della was born on November 30, 1925 in Blackford, KY, the daughter of the late Ross and Augusta Brantly. Della previously lived in Aurora, CO and had been in Warren for the past 50 years. She was employed for 25 years as an auditor for Warren National Bank and Marine Bank. She was very active with the Warren Senior Center where she enjoyed volunteering. She was a member of the Lakewood Rod and Gun Club and Circle Eight Square Dancing. Della loved to travel and was an avid bridge player and belonged to many area bridge clubs. She loved to read and was an excellent cook, wife, mother and grandmother.
Della is survived by her daughter, Janet Meyers and companion Tom Bobelak, of Warren, PA, 3 grandchildren, Christopher, Stacy and Jody, 10 great-grandchildren, 2 great-great-grandchildren, and a brother-in-law, Thomas Meyers and his wife, Mary, of Warren, PA. In addition to her parents, she was preceded in death by her husband, Robert L. Meyers, who died on December 27, 1997, and whom she married on July 3, 1946 in Aurora, CO, 4 brothers, 1 son, James Meyers, and 1 daughter, Diane L. Meyers.
Friends are invited to attend a graveside service to be held at 2:00pm on Friday, August 21, 2015 at St. Joseph R.C. Cemetery, Warren, PA, with Fr. James Gutting, Pastor of Holy Redeemer R.C. Church, officiating. Those wishing to place a memorial may do so through the American Heart Association or the Alzheimer's Foundation of America. E-mail condolences may be sent by visiting www.lewisfuneralhomeinc.com