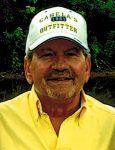 Dean M. Shattuck, 73, of Warren, PA, died Sunday, April 9, 2017, at the John and Orpha Blair Hospice Residence in Warren, PA.
Born on January 4, 1944, Dean was the son of the late Fred and Martha Mathis Shattuck. He was a 1963 graduate of Warren Area High School and was employed with Osram Sylvania as a utility operator, retiring after 37 years of service. Dean loved the outdoors and spending time with his family, especially his grandchildren.
Dean is survived by his wife, Joan Schmader Shattuck, whom he married in Warren, PA, in 2011; 3 children – Scott Shattuck of Orlando, FL, Jodi (Matt) Funk of Beaumont, CA, and Marcy (Brian) Jurkowski of Warren, PA; 2 step-daughters – Jennifer (Jay) Bishop and Kimberly (Aaron) Sitterson, both of Warren, PA; 6 grandchildren – MacKenzie, Kylie, Paige, Katelyn, Ada, and Nora; 3 brothers – Paul Shattuck and Jack Shattuck, both of Warren, PA, and Bruce Shattuck of Indiana; 1 sister – Kathy Bulicz of California; and several nieces and nephews. In addition to his parents, Dean was preceded in death by a brother, Ted Shattuck.
There will be no visitation. A private memorial service will be held at the convenience of the family at the Donald E. Lewis Funeral Home, Inc., 304 East Street, Warren, PA, with Rev. Marcus Briggs, Chaplain of Warren General Hospital, officiating. Those wishing to place a memorial may do so through Hospice of Warren County, 1 Main Avenue, Warren, PA, 16365. E-mail condolences may be sent by visiting www.lewisfuneralhomeinc.com