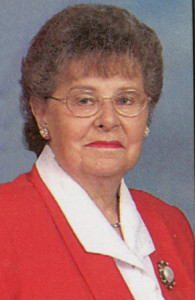 Corrine C. Shanshala, 84, of Warren, PA., died at the John and Orpha Blair Hospice house on Tuesday morning, June 30, 2015, with the loving and compassionate care of the hospice staff.
Corrine was born in Warren, PA on October 18, 1931 to Catherine (Morrison) and Monte Culbertson who preceded her in death, along with her brother, David. She graduated from Warren High School in 1949 where she excelled as a student, especially the business curriculum subject Short Hand. Following graduation she was first employed at Warren General Hospital as a medical records secretary and later at Struther's Wells Corp. as a personal secretary to the senior V.P of Operations; and subsequently a career change to a loving mother and wife.
On October 3, 1953 Corrine and James J. Ryan were married in Warren, PA. They have two children, Patricia (Gottleib) Brunner, Freiburg, Germany, and Mary Beth (Phil) Fisher, Sayre, PA. Mr. Ryan succumbed to injuries he received while a passenger in a taxicab accident on March 28, 1958 in Detroit, Michigan while conducting business for Struther's Wells Corp.
Corrine and Michael J. Shanshala, both of Warren, PA, were married at St. Joseph Roman Catholic Church on June 19, 1965. Their children are Michael J. Shanshala III (Melissa) of Indiana, PA, and Catherine (Phil) Stout of Reedsville, PA. Grandchildren are Rachael and Sandra Shanshala, Trevor Stout, Katie Brunner (Jon) Russ with great-grandson, Joshua, Anna Brunner, Anna Fisher and Cody Fisher (Daniel) Strauss with great-grandson, Noah.
Corrine loved her nieces, nephews, cousins, and friends dearly and was exceptionally generous to them with love, understanding and compassion. These attributes defined her consummate love and dedication to her children, grandchildren, and husbands. She was an accomplished bowler and dancer and was tenacious as a "500" card player. Her favorite song was "Stardust" which she played on the piano regularly. Florida and Toronto, Canada were frequent destinations for Corrine and Mike.
"Mommy's" journey to Heaven is complete, as is the mission God gave her to fulfill on earth. Friends may call from 5 to 8 P.M. on Thursday, July 2. 2015, and a vigil service will be held at 4:45 P.M. at the Donald E. Lewis Funeral Home, Inc., 304 East Street, Warren, PA. A devoted Catholic, her Funeral Mass will be conducted at Holy Redeemer R. C. Church, 11 Russell Street, Warren, PA., on Friday, July 3, 2015 at 10:00 A.M. with Fr. James Gutting, Pastor, assisted by Deacons Joe Lucia and Ray Wiehagen. Burial will follow at St. Joseph R. C. Cemetery. Holy Redeemer R. C. Church Building Fund, 11 Russell Street, Warren, PA 16365, Hospice of Warren County, 1 Main Avenue, Warren, PA 16365, or the Alzheimer's Foundation, Alzheimer's Foundation of America, 322 8th Avenue, 7th Floor, New York, NY, 10001, will accept donations in her memory. E-mail condolences may be sent by visiting www.lewisfuneralhomeinc.com