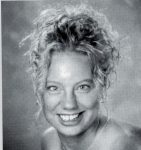 Chelsey Pivovar, passed away Sunday, July 2, 2017 in her
Cleveland, OH home. She was the daughter of Marsha Emery of
Ohio and James Pivovar and his wife, Denise of Florida. Chelsey
was born September 24, 1982 in Warren, PA., where she grew up.
She was a 2001 graduate of Warren Area High School. Chelsey
attended St. Joseph's School and Beaty Middle School. At WAHS
Chelsey was a cheerleader, participated in A Capella Choir and
Madrigals. She loved music, playing the piano and being a part
of The Library Theatre productions in Warren. She was a
member of the Travelers of Christ Youth Group, taking part in
numerous service events and retreats, including the first ever St.
Joe's Box City fundraiser. Chelsey managed to smile, and kept
her fellow Travelers smiling, through it all: sleeping on concrete
floors; serving at soup kitchens and "sleeping" in a box outside
when the temperature dipped to 17 degrees. In fact, Chelsey's
smile could light up every room she entered.
In addition to her parents, Chelsey is survived by her two sons,
Camen Sterrett and Victor Rosa, at home; her significant other,
Fernando Rosa; her brother, Jason Pivovar, and his significant
other, Christina Markley; Camen's sister, Brittany, numerous
aunts, uncles, cousins and her Best Forever Friend, Lena Kearney
and her husband, Brison. Chelsey was preceded in death by
Camen's father, Douglas Sterrett; her maternal grandparents,
Elizabeth Emery and Fred Hammer; her paternal grandparents,
Joseph and Violet Pivovar and her beloved stepfather, Victor
Sandej.
Friends may call at the Donald E. Lewis Funeral Home, Inc., 304
East Street, Warren, PA., on Sunday, July 9, 2017 from 2 to 4 and 6
to 8 P.M. A Mass of Christian Burial will be conducted Monday,
July 10, 2017 at 10:00 A.M. at St. Joseph R.C. Church, 600
Pennsylvania Avenue West, Warren, PA., with Fr. Richard
Tomasone, Pastor, officiating. Interment will be in St. Joseph R.C.
Cemetery. Those wishing to place memorials may do so by
visiting www.lewisfuneralhomeinc.com