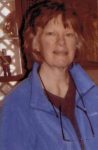 Charmaine Mauk Vavala, 64, of Warren, PA., died Wednesday
morning, August 30, 2017 at the John and Orpha Blair Hospice
Home after a brief illness. She was born October 28, 1952 in
Warren, PA., and was the daughter of the late Phillip Mauk and
Janette Shirley Mauk of Warren, PA. Charmaine was a Sheffield
and Warren area resident most of her entire life. She was a 1970
graduate of Sheffield High School. She was employed with the
former Sheffield Branch of Warren National Bank and worked for
35 years with Blair Corporation, retiring from there in 2010. After
retirement she worked part time with Virg-Ann Flowers and Gift
Shop. Charmaine enjoyed gardening, shopping and ceramics.
She is lovingly remembered as a woman who loved life, and
people. One of the kindest persons you would ever want to meet.
In addition to her mother, she is survived by her husband of 39
years, Eugene C. Vavala whom she married April 22, 1978 at St.
Joseph Church, Warren, PA., 1 Sister – Stephanie Banovic and
husband, George of Sheffield, PA., 2 nieces – Allie Moore and
Molly Yates and her husband, Mike.
In addition to her father, she was preceded in death by her infant
daughter, Anne Marie Vavala.
Friends may call at the Donald E. Lewis Funeral Home, Inc., 304
East Street, Warren, PA., on Friday, September 1, 2017 from 12:00
Noon to 3 P.M. with a funeral service to be held at 3:00 P.M. by
Fr. Philip A. Pinczewski, friend of Charmaine and Pastor of
Blessed Sacrament R.C. Church, Erie, PA., officiating. Interment
will be in St. Joseph R.C. Cemetery. The family strongly suggests
friends to place memorials with Hospice of Warren County, 1
Main Avenue, Warren, PA., 16365 or Warren Cancer Center, 2
Crescent Park, Warren, PA., 16365. E-mail condolences may be
sent by visiting www.lewisfuneralhomeinc.com