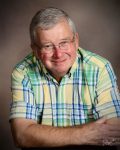 Charles Stanley "Chuck" Johnson, age 72, of Warren, PA, died June 19,
2018 at home surrounded by his family after a courageous battle with
cancer. Born on November 21, 1945 in Warren, PA, Chuck was an area
resident for most of his life. He was a 1963 graduate of Warren Area High
School and graduated from Erie Business Center in 1965. After college, he
was employed by the former Marx Toy Company of Erie, PA. Chuck was a
lifelong entrepreneur and enjoyed the pursuits of running his own
businesses. In 1970 Chuck founded Johnson Enterprises and continued
operating this business for the next 48 years. During this time, children in
the area benefited from selling his fundraising products to support their
school activities. He also owned Hallmark Stores between 1986 and 2004 in
Meadville and Erie, PA and Ashtabula, OH. In 1993 Chuck opened Gayle's
Memories Christmas and Collectibles Store in Warren, PA and continued
this business until 2011.
Chuck was an avid volunteer and active in many community
organizations. He was a member of the North Star Masonic Lodge #241,
Coudersport Consistory, the Zem Zem Shriners and the Sertoma Club. For
31 years he was a member of the Warren County Fair Board of Directors
and served as Concessions Manager. He recently was recognized for this
service with a lifetime achievement "Friend of the Fair" award from the
Pennsylvania Department of Agriculture. He also served on the board of
directors for the Warren County Tourism Association. He enjoyed
attending flea markets, and especially enjoyed participating in car shows
with his 1966 Ford Mustang.
He is survived by his wife of 48 years, Gayle Wetherbee Johnson, his two
daughters, Genine Carlson and husband, Matthew, of Somerville, NJ and
Kryste Ferguson and husband, Scott, along with two grandsons, Ian Walter
and Daniel Charles Ferguson all of Fredonia, NY. He was preceded in
death by sister-in-law, Kay Knapp, West Lafayette, OH. He is also survived
by sisters-in-law, Marleen DeLauder of Vinton, VA, Wanda Dillon of
Corry, PA, and Loretta Dingfelder of Centerville, PA, cousin Linda Thomas
and husband, Graydon, of Tionesta, PA along with many nieces and
nephews.
Chuck loved spending time with his family and was happiest being able to
attend his grandsons' ball games, cheering enthusiastically from the stands.
He selflessly gave his time to help his family and friends and was known to
drive long distances to spend even a short time with those he loved. Chuck
enjoyed spontaneous visits from his friends and customers and would
frequently drop in on them to say hello and catch up. He was a lifelong
Buffalo Bills football fan and had a legendary love of all things chocolate.
Friends may call at the Donald E. Lewis Funeral Home, Inc., 304 East
Street, Warren, PA, on Sunday, June 24 from 2:00 to 4:00 PM and 6:00 to
8:00 PM. Additional viewing time will be from 10:00 – 11:00 am on
Monday, June 25 at The First Church of the Nazarene. A funeral service
will be conducted at 11:00 AM with Rev. J. Maier, Pastor of First Church of
the Nazarene, officiating.
Interment will be in Rose Hill Cemetery, Spartansburg, PA. Those wishing
to place memorials may do so through Hospice of Warren County, 1 Main
Street, Warren, PA 16365 or Zem Zem Shriner's Hospitals for Children,
1645 West 8th Street, Erie, PA 16505. Those wishing to submit email
condolences may do so by visiting www.lewisfuneralhomeinc.com.