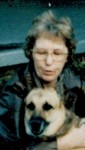 Carol Yencik, 85, of Warren, PA died Tuesday, April 1, 2014 at Warren Manor Nursing Home.
Born on November 25, 1928 in Nurnberg, W. Germany, she was the daughter of the late Willibald and Therese Falkner.
Carol was a longtime resident of Warren and attended St. Joseph R.C. Church. She loved birds, dogs and rabbits. She enjoyed knitting, reading and making afghans.
Carol is survived by her husband, James A. Yencik, who she married on March 14, 1968 in Hopewell, VA. In addition to her parents she was preceded in death by a brother, Gottlieb Leybold and her best friend, Lottie, who passed away several years ago in Germany.
There will be no visitation. Friends are invited to attend a memorial service to be held at 11:00 A.M. on Wednesday, April 9, 2014 at the Donald E. Lewis Funeral Home, Inc., 304 East Street, Warren, PA, with Fr. Richard J. Toohey, Pastor of St. Joseph R.C. Church, officiating. Interment will be at the convenience of the family. Memorial contributions in Carol's memory may be made to the American Fibromyalgia Syndrome Association, PO Box 32698, Tucson, AZ, 85751, or to an animal shelter of one's choice.
E-mail condolences may be sent by visiting www.lewisfuneralhomeinc.com