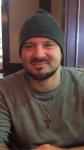 Brooks Alan Rossman, 35, passed away peacefully at his home on
Friday, April 21, 2017. He was born September 2, 1981 in Warren,
PA. From a very young age, Brooks had a zest for life and many
passions that he easily excelled at including motocross racing,
BMX riding and playing guitar. Brooks was an accomplished
guitarist, studying at Musician's Institute in Hollywood, CA and
had written many original songs. Brooks was a 2000 graduate of
Warren Area High School and was a member of the Bricklayers
and Allied Craft Workers Union Local 9. Most recently, Brooks
was a valuable team member for a contracting company in Butler,
PA where he resided. Brooks had a strong faith in God and
attended church regularly. He enjoyed running, lifting weights,
boxing and swimming.
Brooks touched many people's lives. He held a special gift inside
of him that so many of us were blessed to know. Brooks was a
loving son, brother, nephew, uncle and friend.
He is survived by his father, Mark Rossman and companion,
Catherine Phillips of Warren, his mother, Cindy (Steve) Mascaro
of Warren, his sister, Jenna (Charles) Weldon and his nephew,
Calvin Weldon all of Coral Springs, FL., one stepsister – Kayla
Mascaro of Buffalo, NY, paternal grandparents, Calvin (Gus) and
Emilie Rossman of Warren, one aunt, Andrea Atkins of Warren,
and four cousins, Aaron (Hallie) Atkins of Florida, Taylor Atkins
of Nevada, Mynda Rossman of Warren and Bayli Rossman of
North Carolina. Brooks was preceded in death by his maternal
grandparents, Charles B. and Nancy Papalia Dorotics, two uncles,
Charles R. Dorotics and Geoffrey (Jody) Rossman.
Friends will be received from 4:30 to 6:00 P.M. Wednesday, April
26, 2017 at the Donald E. Lewis Funeral Home, Inc., 304 East
Street, Warren, PA., with a Memorial Service immediately
following with Rev. J Maier, Pastor of First Church of the
Nazarene, officiating. Memorial donations may be made "In
memory of Brooks Rossman" to Davis Archway, 164 Schiebel
Road, Butler, PA., 16002. Brook's spirit will live for eternity in the
Light of Our Lord and for that we rejoice!
E-mail condolences may be sent by visiting