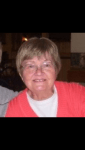 Betty Lou Whisner, 78, of Warren, PA., met her Lord and Savior
peacefully at her home, Tuesday evening, June 27, 2017, after
suffering an apparent heart attack. She was born February 6, 1939
in Strawberry, Arkansas, the daughter of Elmer and Dorothy
Ward Wagner. Betty has resided the past 47 years in Warren, PA.,
Betty Lou was a woman who knew her faith and love of Jesus.
She is remembered by her family as a woman of great love and
kindness, who was a great wife, mother and grandmother.
Family was her whole life.
She was an avid hunter, enjoyed ceramics and good Christian
fellowship. She was a member of the Warren American Legion
Unit 135 Ladies Auxiliary and Warren Eagle Aerie Ladies
Auxiliary.
Betty is survived by her husband of 59 years, Roger D. Whisner,
Sr. whom she married February 2, 1958 in Streator, Ill., 4 Children
– Roger D. Whisner, Jr. and wife, Sandy, of Jamestown, N.Y.,
Sherri Lemmon and husband, Tom of Pleasant Twp., Richard G.
Whisner and wife, Denise of Jamestown, N.Y., Beth Sawyer of
Woolwich Twp., N.J., 4 Sisters – Beulah Marie Sparks of
Mountain Home, Arkansas, Maxine Hackney, Yvonne Hammel,
and Willie Jean Reynolds all of Newport, Arkansas, 1 Brother –
J.W. Wagner of Yuma, Arizona, 11 Grandchildren, 4 Great
Granddaughters, several nieces and nephews. In addition to her
parents, she was preceded in death by 1 Sister – Eula Mae "Aunt
Dood" Tomlinson, an infant brother – Freddy Wagner
Friends may call at the Donald E. Lewis Funeral Home, Inc., 304
East Street, Warren, PA., on Saturday, July 1, 2017 from 10 to
11:00 A.M. when a memorial service will be conducted with
Pastor Charles Darling, family friend, officiating. Those wishing
to place memorials may do so through the Warren American
Legion Unit 135 Elevator Fund, 412 Pennsylvania Avenue West,
Warren, PA., 16365. E-mail condolences may be sent by visiting