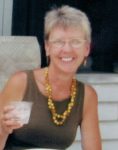 "Love does not consist in gazing at each other but in looking outward
together in the same direction."
– Antoine de Saint Exupery
Betsy Colt Brinkley, 69, a lifelong resident of Warren, PA, died
peacefully Thursday, March 1st, 2018 at the John and Orpha Blair
Hospice Residence following a courageous 10 year battle with
Alzheimer's Disease.
Born on December 23, 1948, exactly one year to the day before her
husband, in Warren, PA. She was the daughter of the late P. Howard
and Margaret McLaren Colt. Betsy was a 1966 graduate of Warren Area
High School and received a bachelor's degree in Education from the
Pennsylvania State University in 1970. She was employed with the
Warren County School District before retiring to dedicate herself to
being the best mother, wife, and friend.
Betsy is survived by her husband, Veryl H. Brinkley, whom she married
on August 1st, 1970 in Warren, 3 loving sons, Ben Brinkley and wife,
Rita, of Warren, PA, Sam Brinkley and wife, Andrea, of Richmond, VA,
and Jordan Brinkley and wife, Lydia, of Syracuse, NY; 5 beloved
grandchildren – Jonah, Ethan, Logan, Griffin, Violet, and a 6th on the
way; her brother Peter H. Colt, his wife, Jyan, of Daytona Beach, FL
and their daughter, Corey Colt, of Maitland, FL. In addition to those
mentioned previously, she is survived by many devoted friends, all of
whom she loved as family.
Betsy had a quick wit, always had a smile on her face, and enjoyed
bringing laughter to all those around her, whether a lifelong friend
or a stranger she had just met. She was an incredibly empathetic
person, love and friendship were truly her life work. Betsy touched
all who had the honor of knowing her.
Betsy was a tirelessly devoted mother who spent countless hours in
support of her sons' sports teams and their many other extracurricular
activities. She enjoyed jigsaw puzzles, crossword puzzles,
socializing with her dear friends in card club, and volunteer work,
particularly with Warren area schools and the Youth Connection of
Warren County. She also loved spending time at Van Buren Point, NY
and an occasional slush on the beach with friends.
There will be a gathering of family and friends this summer at a date
to be announced. Arrangements have been entrusted to the Donald E.
Lewis Funeral Home, Inc., 304 East St., Warren, PA 16365. E-mail
condolences may be sent by visiting www.lewisfuneralhomeinc.com.
Those wishing to place memorial donations may do so to Hospice of
Warren County, 1 Main Ave., Warren, PA 16365.
"The riders in a race do not stop when they reach the goal. There is
a little finishing canter before coming to a standstill. There is
time to hear the kind voices of friends and say to oneself, "The work
is done."
– Oliver Wendell Holmes Sr.