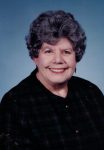 Barbara A. Bova-Kerr, 86 of Warren, Pennsylvania, formerly of Tecumseh, Michigan, died at St.
Vincent's Health Center on Tuesday morning, November 2, 2016 following an extended illness.
She was born June 9, 1930 in Warren, Pennsylvania, the oldest child of the late August and
Martha (Reilley) Bova. She attended Saint Joseph's School and later graduated from Warren
High School, class of 1947. Upon graduation from Warren High School, she was employed as a
bookkeeper at New Process Company for 10 years. During this period of time, Barbara could
often be found roller skating with friends at the Russell Roller Rink. She was also an active
member of Saint Josephs Roman Catholic Church.
In 1957, she left Warren, PA for Ypsilanti, Michigan, to attend Eastern Michigan
University. She graduated with honors in 1961 with a degree in special education.
For the next 30 years, she taught physically handicapped and otherwise impaired, special needs
children. She was respected and well-loved by the students and families she served.
Barbara was an avid reader, going through as many as 8 to 10 books a week. She enjoyed
crocheting, knitting and quilting. She made special baby blankets or quilts as gifts for each of her
nieces, nephews, and great-nieces and great-nephews. She enjoyed stamping and card making,
sending many lovely creations to family and friends. She especially enjoyed watching her
favorite television game show, Jeopardy, which she never missed. She actively followed and
loved watching major league baseball, her favorite teams being the Detroit Tigers and the
Pittsburgh Pirates. She had a very special relationship with her daughters 17-year-old cat, Seven,
who rarely ever left her lap.
Barbara is survived by her daughter, Lisa A. Kerr and companion, James E. King, of Clarendon,
PA , and formerly of Tecumseh, Michigan. She is also survived by her sister, Sally I. (Bova)
Marino and husband, Anthony C. Marino, of Warren, PA., a sister-in-law, Helen M. (Poulson)
Bova of North Warren, PA and many nieces, nephews, great-nieces, great-nephews, and great-
grandnieces and a great-grandnephew.
She was preceded in death by her son, James J. Kerr, who died on April 30, 1981, by her former
husband, Robert (Bob) M. Kerr, who died January 1, 1995 and by her longtime companion of 15
years, Raymond E. Bourn, who died on October 14, 2007.
Barbara was also preceded in death by her sister, Elaine M. (Bova) Salerno of Mount Clemens,
Michigan, who died on February 3, 2011 and by her twin brothers, Paul J. Bova, who died on
December 25, 2004 and Peter J. Bova, who died on August 7, 2013, both of Warren,
Pennsylvania.
Friends may call at the Donald E. Lewis Funeral Home, Inc., 304 East St., Warren, Pennsylvania
16365 on Friday, November 4, 2016 from 6 to 8 PM. A Vigil service will be held at 5:45 P.M..
A Mass of Christian Burial will be conducted Saturday, November 5, 2016 at 11 AM, at St.
Joseph's Roman Catholic Church, 600 Pennsylvania Ave. W., Warren, PA 16365, Father Richard
J. Toohey, pastor, officiating. Interment will be at St. Joseph's Cemetery at the convenience of
the family.
Those wishing to make a donation in Barbara's memory may do so to the Warren Public Library,
205 Market Street, Warren, PA. 16365 or to a charity of choice. E-mail condolences may be sent
by visiting www.lewisfuneralhomeinc.com