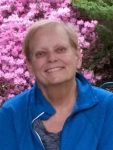 On Saturday, November 24, 2018, Annie-Claire Hoden, loving wife, mother of three, and grandmother to four young children, and dear friend to many, passed away at home at the age of 66.
Annie was born on October 3, 1952 in Norfolk, VA to D. Richard and Anna (Siedle) LaBarbera. She graduated in 1973 from Edinboro University of Pennsylvania with a Bachelor of Arts in Sociology. She was a full-time mother for a number of years, and also worked for 18 years as a paralegal. She then worked for several years in various fields of social work before she retired.
Annie enjoyed golfing with her girlfriends, reading ("armchair adventuring"), boating on the Allegheny Reservoir, floating in the saltwater with the sunshine on her shoulders, traveling, watching college football games, and spending time with her family. She was known for her witty sense of humor, her beautiful smile, and her kind and compassionate spirit.
She is preceded in death by her father, Richard; her mother, Anna; and her sister, Magdalene LaBarbera. She is survived by her husband, Daniel; her three children: Lisa (Nick) Radio of Sarver, PA, George (Louisa) Hoden of Palmer, AK, and Madeleine (Travis) Pittman of Colorado Springs, CO; her four grandchildren: Bryce, Zachary, Penelope & Oscar; and a brother, John LaBarbera, in Reno, NV, father and mother-in-law – George and Beverly (Jones) Hoden, of Englewood, FL.
A funeral mass will be held on Thursday, November 29, 2018 at 11:00 am at Holy Redeemer Catholic Church, 11 Russell Street, Warren, PA, with Fr. James Gutting, Pastor, officiating. The family would like to thank Dr. Rassiga, and especially, the nursing staff at the Cancer Center for their loving care of Annie. Memorials may be made to the Warren General Hospital Cancer Center, Two Crescent Park West, Warren, PA, 16365, or Holy Redeemer Church building fund. Arrangements have been entrusted to the Donald E. Lewis Funeral Home, Inc., 304 East Street, Warren, PA.