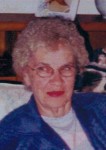 Anne L. Smith Rossey, 90, a former resident of Dunn's Eddy,
Youngsville, PA. and a resident of the Rouse Warren Co. Home,
Youngsville, PA. died Tuesday, April 28, 2015 at her residence
after an extended illness. She was born February 17, 1925 in
Warren, PA. Daughter of the late Louis A. and Jennie Marie
Swanson Smith. She has been a lifelong resident of the Warren
area and a 1943 graduate of Warren High School. She was
employed for 28 years with the former G.T.E. Sylvania and retired
in 1987 from the Allegheny National Forest Service after 14 years
service. Anne was a member of the G.T.E. Sylvania Quarter
Century Club, National Association of Federal Retired Employees
and the G.T.E. Retired Women's Group.
She is survived by 3 Stepdaughters, longtime neighbor and
friend, Eugene Sanden of Youngsville, PA.
In addition to her parents, she was preceded in death by her
husband, Chester Lee Rossey who died January 13, 1972, 2
Brothers -Louis M. and Delbert A. Smith, longtime friend, Teresa
Nuhfer Sanden who died March 31, 2015..
Friends may call at the Donald E. Lewis Funeral Home, Inc., 304
East Street, Warren, PA., Friday, May 1, 2015 from 10:00 A.M.
until 11:00 when a funeral service will be held with Rev. Marcus
Briggs, Chaplain of the Rouse Warren County Home.
Interment will be in Oakland Cemetery. Those wishing to place
memorials may be through Friends of the Rouse Warren County
Home or Boys Town, National Headquarters, 14100 Crawford
Street, Boys Town, NE 68010. E-mail condolences may be sent by
visiting www.lewisfuneralhomeinc.com