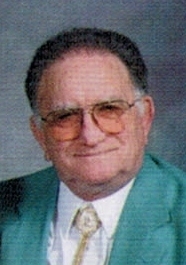 Angelo "Ange" L. Galiano, 85, of Warren, PA. died Thursday, August 09, 2012 at the John and Orpha Blair Hospice House after an extended illness. He was born March 4, 1927 in S. San Francisco, CA. to the late Lewis and Franciska Incorvina Galiano and was a Warren area resident since 1958. He had served in the U. S. Navy serving on the USS Arkansas BB33 Battleship, USS Langley Aircraft Carrier, USS Lei Landing Craft, USS LST Landing Craft. Ange was a custodian with the Warren Times Observer for 19 years and was a letter sorter with the U.S. Postal Service for 37 years retiring from the Warren Post Office. He had previously been employed with TWA for 2 years. He was a member of Holy Redeemer R.C. Church, Knights of Columbus Warren Council, Circle 8 Square Dancing Group, Lakewood Rod & Gun Club, American Legion Post 135, Warren Eagle Club. He is remembered for his quick wit and fantastic sense of humor, who also enjoyed and loved his family and friends.
He is survived by 4 Children – Allen Galiano and wife, Diane, Linda Collins all of Warren, PA., Pam Siegrist and husband, Matt of Sandy, Oregon, Brenda Grady and husband, Kelley of Sedan, Kansas, 1 Sister – Lena Guidici of S. San Francisco, CA., 9 Grandchildren, 3 Step Grandchildren, 3 Great Grandchildren, several nieces and nephews also survive.
In addition to his parents, he was preceded in death by his wife of 55 year, Betty Nuhfer Galiano who died June 24, 2010 whom he married November 6, 1954 in S. San Francisco, CA., 1 Son – Peter L. Galiano, 1 Brother – Carl Galiano.
Friends may call at the Donald E. Lewis Funeral Home, Inc. 304 East Street, Warren, PA. on Sunday, August 12, 2012 from 6 to 8 P.M. where a vigil service will be conducted at 7:45 P.M. A Mass of Christian Burial will be conducted Monday, August 13, 2012 at Holy Redeemer R.C. Church at 10:00 A.M. with Msgr. John Lucas, Pastor, officiating. Interment will be in St. Joseph R.C. Cemetery and full military honors will be conducted by members of the Sheffield/Clarendon V.F.W. Funeral Detail and the U.S. Navy personnel. Those wishing to place memorials may do so through Hospice of Warren County, 2 Crescent Park, Warren, PA. 16365. E-mail condolences may be sent by visiting www.lewisfuneralhomeinc.com