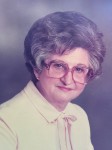 Angeline "Angie" Cerra Valone, age 97, of Warren, PA died on Saturday, April 9, 2016
after a brief illness. She was born in Warren to the late Phillip and Rose Colica Cerra, and has
resided her entire life in Warren. She owned and operated the former Angie's Beauty Salon and
later was a co-owner with her husband James of Valone Shoe Store. Angie was a member of
Holy Redeemer Church and the Catholic Daughters of America. She was a volunteer with the
Warren General Hospital, a member of the Conewango Valley Country Club, the Warren Senior
Center, and a 70+ year member of the Women's Club of Warren. Angie was an avid bridge
player and achieved the status of Senior Life Master of Bridge Playing.
She is survived by her children Dr. Ross J. Valone of Des Moines, IA; Rosemary Wright
and her husband, Ronald, of Blossvale, NY; Phyllis French and her husband, Brian, of
Gettysburg, PA; Carol Ann Adams and her husband, Jeff, of Palmyra, VA; Patricia Tata and her
husband, James, of Westfield, NJ. She is also survived by her sister Stella Vrenna of Lady Lake,
FL; 12 grandchildren, 15 great grandchildren, and several nieces and nephews.
In addition to her parents, Angie was preceded in death by her husband, James R. Valone
whom she married May 25, 1946 in Warren, PA. Her late siblings include infant brother John
Cerra, August "Gus" Cerra, Orlando Cerra, Sylvia Trusso, and Helen Cerra.
Friends may call at the Donald E. Lewis Funeral Home, Inc., 304 East Street, Warren, PA
on Wednesday, April 13, 2016 from 4:00 PM to 7:00 PM where a vigil service will be conducted
at 3:45 P.M. A Mass of Christian Burial will be celebrated at Holy Redeemer Church, 11
Russell Street, Warren, PA., on Thursday, April 14, 2016 at 10:00 A.M. with Rev. James G.
Gutting officiating. Interment will be at Holy Sepulchre Cemetery, Jamestown, NY. Those
wishing to make memorial donations may do so to the American Heart Association or a charity
of their choice. E-mail condolences may be sent by visiting www.lewisfuneralhomeinc.com