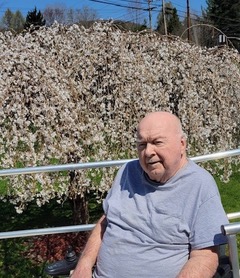 Glenn "Bud" W. Cook, Jr., 88, of Warren, PA., died peacefully at his home with his daughter, Kathleen at his side, Friday morning, April 14, 2023, after a brief illness.  He was born February 14, 1935, in Warren, PA.  He was the son of Margaret Eshbaugh and Glenn W. Cook, Sr.  He has resided in Warren area his entire life.  Glenn was a 1954 graduate of Warren High School where he was an undefeated wrestler in 1954.  He was inducted in the Wrestling Hall of Fame.  Glenn was a specialist 3rd grade and Paratrooper, with the U.S. Army serving with Company A, 82nd airborne battalion, 11th Airborne Division, 505th Infantry, during the Korean War.  While in the service he earned a Parachute Badge and he also wrestled while serving in U.S. Army, in Europe.He was invited to participate in the European Wrestling Tournament with the 505th Infantry and finished as a USAEUR Champion.  He was employed with the former National Forge Company for 36 years, retiring in 1988, as a grinder/group leader.  After retiring, Glenn picked up the "golf bug," he and Lucy would spend their winters in Florida and South Carolina to perfect their game and "get away from you kids."  In 2018, Glenn had to have both of his legs amputated below the knee, and while he was never quite able to golf again, at 83 years old he astounded his surgeon by getting prosthetics and learning to walk again.  Everyone who knew him, knew that he was a tough son of a gun and the word "quit"was not in his vocabulary.  He gave life a good fight!
He was a member of Covenant United Methodist Church.  He was a life member at American Legion, Clarendon V.F.W., member of the Sheffield Rod & Gun Club, and Warren Eagles Club. A former member of the Jamestown War Vets, Jamestown Elks.  Glenn loved hunting and fishing, especially trips with his father to Canada to hunt Moose, which they did almost every year with various "Friends."  He enjoyed teaching his son how to hunt and fish while he was growing up, taking his family on camping trips as well as some very memorable vacations.
Glenn had 3 close friends whom he greatly enjoyed talking with, Bruce Yeagle of Warren, PA., Bob Rozelli of Clarendon, PA., and Denny Brown of Jamestown, N.Y., A special thank you to Angie.  (post-woman) and Deb Yucha for keeping him in western books and taking time out of your busy days to cheer him up, he always looked forward to seeing you both.
He is survived by his 3 children, Mark Cook and wife, Karan, Kathleen Cook, (Cy Watson), Diane Johnson and husband, Don, all of Warren, PA., Grandchildren – Kari Mihalko, Matthew Cookand,(Deanna), Randi Cook, Danielle Day and husband, Daniel, Joshua Watson and (Davet), Emily Pastor and husband, Justin, Colby Johnson, grandson in law, Jesse Lauffenburger, 8 Great Grandchildren – Tyler Spear, Kaylie Lauffenburger, Danny, Ellianna, Laura Lyn and Charlotte Day, Finn Watson, Weston Pastor.  
In addition to his parents, he was preceded in death by his wife, who was the love of his life, Lucy Mazzone Cook, whom he married July 28, 1958, in Jamestown, N.Y., They had 59 years of trials, tribulations and wedded bliss, when she passed on September 5, 2017, he never stopped missing her, 1 Sister – Dorothy Hanson, and her husband, John Curtis.
Friends may call at the Donald E. Lewis Funeral Home, Inc., 304 East Street, Warren, PA., on Sunday, April 16, 2023, from 4 to 7 P.M., where a funeral and committal service will be conducted on Monday, April 17, 2023, at 11:00 A.M. with Rev. Ralph Culp, Pastor, officiating. Full military honors will be bestowed following the funeral by members of the Clarendon/Sheffield V.F.W. and Warren American Legion Post 135 funeral detail. Interment will be in Pine Grove Cemetery, Russell, PA.  Those wishing to place memorials may do so through the Warren County United Veterans Council, %Warren County Courthouse, 204 Fourth Avenue, Warren, PA 16365.  E-mail condolences may be sent by visiting www.lewisfuneralhomeinc.com