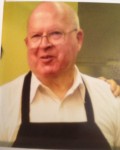 William "Bill" D. Paul, Jr., 70, of Warren, PA. and formerly of
Frewsburg, New York, died peacefully in his sleep, Tuesday
morning, February 4, 2014 at his residence. He was born in
Jamestown, N.Y. to the late William D. Paul, Sr. and Lois Johnson
Paul Spacht. He was a 1961 graduate of Sherman Central High
School and a 40 year resident in Frewsburg, New York. He
moved to Warren 3 years ago. Bill was employed with Fairbank
Farms, Quality Markets and retired from Sysco. He owned and
operated Frewsburg Hotel for 8 years. He was a member of St.
Joseph R.C. Church, Warren, PA., Jackson Valley Golf Club where
he was assistant Chef for past 5 years. He was an avid member of
the Warren Y.M.C.A. where he enjoyed playing Pickle Ball and
Racquet Ball.
He is survived by his wife of 42 years, Rosann Lucia Paul whom
he married May 13, 1971 in Warren, PA. at St. Joseph R.C.
Church. 2 Sons – William D. Paul, III and wife, Erika of
Rochester, N.Y., Craig Paul and fiancé Katy, both of Buffalo, N.Y.,
12 Siblings, 1 granddaughter – Elizabeth Paul, 1 grandson –
Jonathan Paul both of Rochester, N.Y. , several nieces, nephews
and cousins also survive.
In addition to his parents, he was preceded in death by his
stepfather, Larry Spacht, 1 Brother.
Family will receive friends on Friday, February 7, 2014 from 5 to 8
P.M. at the Donald E. Lewis Funeral Home, Inc., 304 East Street,
Warren, PA. where a vigil service will be conducted Friday
evening at 7:45 P.M.
A Mass of Christian Burial will be conducted Saturday, February
8, 2014 at 10:00 A.M. at St. Joseph R.C. Church, 600 Pennsylvania
Avenue West, Warren, PA. by Fr. Richard J. Toohey, Pastor.
Interment will be in St. Joseph R.C. Cemetery. Those wishing to
place memorials may do so through St. Joseph Church
Educational Center Fund, 600 Pennsylvania Avenue West,
Warren, PA. 16365 or a charity of one's choice.