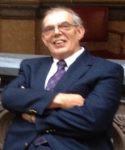 Thomas G. Hessley, 74, Pleasant Township, died surrounded by his loving family after a long, courageous battle with a serious illness on March 29, 2019.
He was born February 21, 1945 in Warren, Pennsylvania to the late Joseph and Agatha Hessley. He graduated from Warren Area High School in 1963 and Gannon University with a Bachelor's Degree in Sociology in 1967. He married Bobbi Linder on December 12, 1970 and the two made their home on the east side of Warren where they spent several years having fun, riding motorcycles, going to Watkins Glen, and enjoying life before starting a family.
Tom was an outspoken union machinist and plumber at National Forge for 28 years, served on Warren Borough Council in the early 1980s, and was a proud board member of the Transit Authority of Warren County for over 40 years. He also worked for the Commonwealth of Pennsylvania as an Auditor General. After retirement, Tom worked part time at Struthers Library Theater as Facilities Assistant, a position he really enjoyed. Tom and Bobbi recently purchased a house in Ft. Lauderdale, Florida, and were looking forward to escaping cold, Pennsylvania winters and being snowbirds in the warm, Florida sunshine with their daughters and grand-dogs. Tom was a great storyteller, an avid student of history, and an innovative problem solver. He loved talking to people and making friends and could have a conversation with just about anyone. Tom was a man of deep convictions and personal beliefs. He showed his love for his family, friends and neighbors through acts of service. He cleared snow every winter and mowed lawns every summer, often for the entire neighborhood. He loved working on projects both small and large for family and friends. Tom was extremely proud of and loved his daughters, Jennifer, Lynn and Lisa. Tom loved Chevrolets of all kinds, his cozy fleece jackets and suspenders, the Happy Hour group, breakfast with "the guys," cruising with his wife and Wayne and Pam Nasman in his Camaro convertible, talking cars and life with his best friend Bob Ekey, listening to the Eagles, watching MSNBC, playing solitaire, and generally damning "the man."
Tom is survived by his wife of 48 years, Bobbi Hessley, Pleasant Township, his three daughters, Jennifer Hessley, Ft. Lauderdale, FL, Lynn Hessley, Ft. Lauderdale, FL, and Lisa Hessley, Boston, MA, his eight grand-dogs, his siblings, Agnes "Dutchy" Higham, Erie, PA, Ellen Josephine Mascoli, Middlebury, CT, Bernard J. Hessley and his wife Linda, Warren, PA, Rita Hessley, Cincinnati, OH and many treasured nieces, nephews and friends.
Tom was preceded in death by his infant son, Gregory Thomas.
Friends will be received at the Donald E. Lewis Funeral Home, Inc., 304 East St., Warren, PA, on Thursday, April 4, 2019, from 11:30 A.M. until 1:00 P.M. at which time a memorial service will be held with Rev. Jeffrey Ewing, Pastor of First Lutheran Church, officiating. Afterwards, friends and family are invited to join a celebration of Tom's life being held at Struthers Library Theater in the Library Room at 2:00 P.M. In lieu of flowers, the family requests donations be made to the Struthers Library Theater, 302 West Third Avenue, Warren, PA, 16365, or to Dachshund Rescue South Florida, P. O. Box 267386, Weston, FL, 33326, or to St. Vincent's Foundation, 232 W. 25th Street, Erie, PA, 16544. E-mail condolences may be sent by visiting www.lewisfuneralhomeinc.com
You done good, Dad.