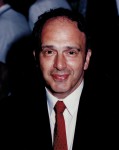 Santo S. "Sam" Pascuzzi, 83, of Warren, PA, died Thursday, January 28, 2016 at the Rouse Home in Youngsville, PA.
Born on September 16, 1932, he was the son of the late Santo F. and Clara F. Chiodo Pascuzzi. Sam was a 1952 graduate of Warren High School. He worked for many years with G.T.E. Sylvania, retiring in 1992. He also worked for 25 years as a Deputy Conservation Officer, retiring in 2008. He was a member of Holy Redeemer R.C. Church and had served with the U.S. Army. Sam liked hunting, fishing, spending time in his garden and going to camp. He was a member of the Kalbfus Rod and Gun Club and the Lakewood Rod and Gun Club. He enjoyed spending time with his family, especially his grandchildren and loved family vacations.
Sam is survived by his four children – Santo J. "Sam" Pascuzzi and his wife, Linda, of Warren, PA, John S. Pascuzzi of Russell, PA, Kimberly C. Hoffman and her husband, Steven and Monica Ritchie and her husband, Rob, all of Warren, PA, Grandchildren – Brianna, Meghan, Brian, Daniel (Lincoln), Johnny, Jr., and Adam Pascuzzi, Elizabeth (Keith) Yaegle, Lauren (Ty) Elmquist, Great-Grandchildren – Maya Elmquist and Emmet Yaegle, one brother – Joseph L. Pascuzzi and his wife, Margaret, of Reading, PA, sister-in-law – Patricia Pascuzzi of Warren, PA, and several nieces, nephews and cousins. In addition to his parents, Sam was preceded in death by his wife, Nancy Lee Sirianni Pascuzzi, whom he married on October 12, 1957 in Kane, PA, and who died on January 17, 1992. He is also preceded in death by one brother, Richard D. Pascuzzi.
Friends may call from 2-4pm and 6-8pm on Sunday, January 31, 2016 at the Donald E. Lewis Funeral Home, Inc., 304 East Street, Warren, PA, where a vigil service will be conducted at 5:45pm by Deacon Joseph Lucia. A Mass of Christian Burial will be conducted at 10:00 AM Monday, February 1, 2016, at Holy Redeemer R.C. Church, 11 Russell Street, Warren, PA, with Fr. James Gutting, Pastor, officiating. Entombment will be in the Mausoleum of the Ascension in St. Joseph R.C. Cemetery. Those wishing to place a memorial may do so through Hospice of Warren County, 1 Main Avenue, Warren, PA, 16365. E-mail condolences may be sent by visiting www.lewisfuneralhomeinc.com