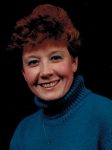 Sallie J. Urbanik, 59, of Tidioute, PA, passed away Monday, March 13, 2017 at The Rouse Home in Youngsville, PA.
Born on August 9, 1957 in Titusville, PA, she was the daughter of the late John and Joann Hoffman Mellon. Sallie was a 1975 graduate of Tidioute High School. She attended the University of Buffalo and Pitt-Titusville. She was employed for many years as a librarian at the Tidioute Public Library and also as a health coordinator for the Warren-Forest County Head Start program. Sallie enjoyed reading, traveling, and spending time with her cats and dog.
She is survived by her husband, Scott A. Urbanik, whom she married on September 5, 1987 in Tidioute, PA; 2 Sisters – Sandy (Dennis Kightlinger) Hall of Tidioute, PA, and Sheila Gema and her husband, Kevin, of Warren, PA; and several cousins.
Friends may call at the Donald E. Lewis Funeral Home, Inc., 304 East Street, Warren, PA, on Friday, March 17, 2017 from 10:00 A.M. until 11:00 A.M. at which time a Memorial Service will be conducted with Rev. Ralph Culp officiating. In lieu of flowers, those wishing to place a memorial may do so through the Alzheimer's Association, 1600 Peninsula Drive, Suite 15, Erie, PA, 16505. E-mail condolences may be sent by visiting www.lewisfuneralhomeinc.com