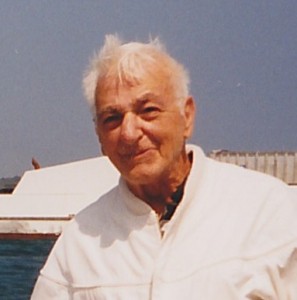 Ross Saporito, 78, of Youngsville, PA, formerly of Warren, PA died Tuesday, March 6, 2012 at UPMC Hamot in Erie, PA following a brief illness. Born May 31, 1933 in Warren to the late Pasquale and Antoinette Brindis Saporito, he has resided in the Warren area most of his life. A 1952 graduate of Warren High School, Ross attended the University of Pittsburgh receiving a degree in education. He served in the US Air Force as a Master Sergeant before retiring from there after 22 years. He was a veteran of the Korean War and Vietnam and was awarded the Bronze Star. He was a Warren County School District educator, teaching Computer Science before retiring in 1994 after 15 years. He was a Life Member of the former Warren VFW, a member of the Youngsville American Legion and a former Fourth Degree Member of the Knights of Columbus. He enjoyed woodworking, gardening and computer work for leisure. Ross was a Steelers fan and loved to hunt.
He is survived by his wife of 50 years – Dolores Pimantel Saporito, whom he married February 24, 1962 in Massachusetts; two sons – Eric Saporito of Lakeland, Fl and John Saporito of Youngsville; one sister – Rosie Eck of Warren; one brother – Frank Saporito of Warren; two grandchildren – Jeremy and Lauren Saporito; and several nieces, nephews and cousins.
In addition to his parents, he was preceded in death by six brothers – Thomas Allen Saporito, Sr., Anthony Saporito, Robert Saporito, Charles Saporito, Domenic Saporito, Thomas A. Saporito; and one sister – Mary Ann Walters.
Friends may call the Donald E. Lewis Funeral Home, Inc., 304 East St, Warren, 16365 on Friday, March 9, 2012 from 6:00 to 8:00 pm where a funeral service will be conducted on Saturday, March 10, 2012 at 1:00 pm with Rev. Fr. Richard J. Toohey, Pastor of St. Joseph R.C. Church, officiating. Interment will follow in St. Joseph R.C. Cemetery where full military honors will be exercised by the John Gertsch Vietnam Memorial Post Funeral Detail members and US Air Force personnel. Memorial contributions may be made to Disabled American Vets, P.O. Box 14301, Cincinnati, OH 45250-0301. Online condolences may be offered to the family at www.lewisfuneralhomeinc.com.