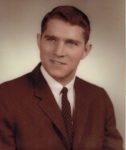 Richard Anthony Mancuso, 76, of Warren, PA., passed away on
Thursday, July 07, 2016 at the John and Orpha Blair Hospice
residence surrounded by family after a two year illness. He was
born March 29, 1939, a son of the late Ralph and Rose Lucia
Mancuso. He was a 1956 graduate of Warren High School and a
1961 graduate of Fenn College, now Cleveland State University
with a Bachelor of Mechanical Engineering. In 1963, he
graduated from the University of Toledo with a Master's Degree
in Mechanical Engineering. He had a fifty year engineering
career working for Boeing Company, Seattle, Washington; NASA
in Sandusky, Ohio; Owens Illinois in Toledo, Ohio and a forty-
seven year career with Struthers Wells, Warren, PA., retiring in
2014 as Vice President of Operations.
Richard was a life member of the American Society of Mechanical
Engineers, a life member of the Society of Naval Architects and
Marine Engineers where he helped author a published book on
Marine Engineering. He held professional engineer's licenses in
the State of Pennsylvania, the State of North Carolina, and
Calgary, Canada.
He was a member of the Conewango Valley Country Club,
Conewango Club, and the Lakewood Rod & Gun Club. He was a
member of Holy Redeemer Catholic Church where he served as
Eucharistic minister, usher and CCD instructor.
Richard is survived by his wife, Rita Comberiati Mancuso whom
he married on September 1, 1962 in Warren; a son, Louis and his
wife, Margaret; a daughter, Jeanne; a son Bradley and his wife,
Laura; and three grandchildren, Andrea, Brooke and Seth
Mancuso. He is also survived by his sister-in-laws and brother-
in-laws, Rosemarie and Joseph Massa, Dolores and Albert
Wagner, Janet and Francis Fusco, several cousins, nieces and
nephews. In addition to his parents, he was preceded in death by
his sister, Mary Lou Mancuso Arey.
Family and friends will be received on Sunday, July 10, 2016 from
5 to 8 P.M. at the Donald E. Lewis Funeral Home, Inc., 304 East
Street, Warren, PA., where a vigil service will be conducted at
8:00 P.M. Sunday. A Mass of Christian Burial will be celebrated
Monday, July 11, 2016 at 10:00 A.M. at Holy Redeemer R.C.
Church, 11 Russell St., Warren, PA., with Fr. James Gutting,
Pastor, officiating, assisted by Richard's cousin, Deacon Joseph
Lucia. Burial will be in St. Joseph Cemetery. Family suggests
memorial contributions to Hospice of Warren County, Holy
Redeemer Church Building Center Fund, the ALS Association of
Western Pennsylvania or a charity of choice. E-mail condolences
may be sent by visiting www.lewisfuneralhomeinc.com