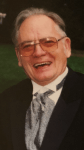 Rev. Norman E. Hornburg, Sr. left this world for a better place September 23, 2018. Norman entered this world December 28, 1931. He was the 3rd son of Art & Florence Hornburg from Rockland Township, in Venango County, PA. Seventeen days later Norman's mother passed away (food poisoning). His Grandmother (Florence's mother) played a large part in raising Norman. His father Art owned a small farm where Norman and brothers Carl and Charles shared in the farm chores. All have passed on ahead of Norman.
Norman was greatly influenced by his Grandmother. She encouraged his spiritual growth and his musical talent: voice/guitar/harmonica. Once Norman graduated from High School (Oil City, PA) and Technical School (Auto Mechanics), he then attended Olivet Nazarene College, Chicago Bible Institute as well as Wheaton College. While attending college in Chicago, he met Ellen Oglesby who was working at a Mission.  Both were born and raised in Venango County, PA but didn't meet till they moved to Chicago, Ill. April 14, 1956 they married at West Home, PA Church. During their 61 years together they had 7 children; Tim (Deborah), Dan (Carrie), Florence, Joy (Rick), Anna (Jack), Norman (Dawn) and Samuel John (passed on during first week of his life). 14 Grandchildren plus step-grands and 4 Great-Grands and counting have blessed their lives. Ellen went on ahead to Heaven February of this year.
Norman Pastored at 8 churches: Centerville, PA, a Pilgrim Holiness church near Oil City, PA, Mayburg and Townline & Kieffer Hill, PA, Marienville, PA, Sheffield and Cherry Grove, PA. He enjoyed the small churches. Most were close to the Allegheny National Forest. Norman loved life by hunting, working on vehicles, listening to the radio (Johnny Cash)…music & sermons…singing love songs to Ellen, taking his dog for walks and serving God & community in many ways.
Friends may call at the Donald E. Lewis Funeral Home, Inc., 304 East Street, Warren, PA, on Friday, September 28, 2018, from 2-4pm and 6-8pm. Funeral and committal services will be held at the funeral home on Saturday at 1:00 P.M. with Rev. Marcus Briggs, retired Chaplain, officiating. Interment will follow in Cherry Grove Cemetery. Those wishing to place a memorial to Norman may do so to Cherry Grove Chapel, P.O. Box 33, Clarendon, PA, 16313.  E-mail condolences may be sent by visiting www.lewisfuneralhomeinc.com