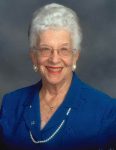 Phyllis Carolyn Jones DiFonzo of Youngsville, PA and formerly of Bradford, PA, passed from this life into the care of her Lord and Savior on December 16, 2018.
Phyllis was born on January 15, 1929 and she was a lifetime resident of Bradford except for a brief time when her step-father was in the service and for the last two years in assisted living in Youngsville. She was the daughter of the late Clarence Jones and the late Ruth Johnson Whitling. On April 15, 1951 she married Frank D. DiFonzo who preceded her in death on March 12, 2009. In addition to her parents and husband, she was preceded in death by her son-in-law, Kim Schuler.
She was a 1947 graduate of Bradford Area High School. She was employed for 37 years as a school secretary at School Street Jr. High, retiring in 1989. She was also employed for a short time by Minard Run Oil Company.
Phyllis attended the Church of Ascension in Bradford and was a past member of the Alter Guild and Episcopal Women's Church group. She was a past member of the Salvation Army Advisory Board, and member of Bradford's Current Events Club and attended a neighborhood Bible Study group for 30 years.
Phyllis was an avid golfer, gardener, bird watcher, bridge player and a voracious reader. She and Frank were members of both Pennhills Club and Pine Acres Country Club at various times in their lives. Phyllis was Presidents Cup winner several times at Pennhills. For many years she and Frank wintered in Naples, FL and she continued to go to Naples after Frank died. There she bowled in a mixed league and was part of a horseshoe league.
Surviving are her son Dan DiFonzo (Cheryl) of Sun Prairie, WI, daughter, Jayne Schuler of Warren, PA, and a sister Gayle McLaughlin (Hugh) of Bethesda, MD. Also surviving are two grandchildren Abby Longmore (Ben) of Fitchburg, WI and Joanna Carter (Joel) and great grand-daughter Eliza of Bettendorf, IA.
Visitation will be held at the Donald E. Lewis Funeral Home, Inc., 304 East St., Warren, PA, on Thursday, December 20, 2018, from 10am to 11am with a memorial service to follow. Burial will be in the Veterans section of Willow Dale Cemetery.
Memorials may be made to the Salvation Army, 111 Jackson Ave., Bradford, PA, 16701, or to the Bradford Area Public Library, 67 West Washington St., Bradford, PA, 16701, or to Paws Along the River Humane Society, 212 Elm St., Warren, PA, 16365, or to a charity of the donor's choice. Email condolences may be sent by visiting www.lewisfuneralhomeinc.com