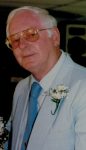 Paul W. Brown, 83, of Warren, PA., died Tuesday afternoon, May
22, 2018 after an extended illness. He was born February 8, 1935
in Ashville, PA. He was the son of the late Edward and Anna
Crumbine Brown. Paul was a Warren area resident since 1965 and
was formerly of Altoona, PA. He was a 1953 graduate of Crescent
High School. He had served with the U.S. Navy as a 3rd Class
Mechanic. He was employed as a Pennsylvania State Trooper
working at Washington, Union Town, Carnegie, Williamsburg
and the Warren PA., police barracks, retiring in 1985 after 28
years employment.
He also owned and operated Brown Pool Design. Paul was a
member of the Warren Moose Lodge #109, former member of the
Warren American Legion Post 135. He was an avid hunter,
fisherman, golfer and Pittsburgh Steelers and Penn State Football
Fan.
Paul is survived by his 6 children – Paul V. Brown and wife,
Libby of Rosemont, MN., Lynda Neiswonger and husband, Ken,
Philip Brown all of Warren, PA., Annette Brown of Cambridge
Springs, PA., Alan Brown of Los Angeles, CA., Anthony Brown
and wife, Mary of Warren, PA., 11 Grandchildren – Scott and
Kevin Neiswonger, Kyle Brown, Terrah Anderson Caldwell, Marc
Neiswonger and wife, Jen, Anthony J., Jarrett, Jacob, Adrian,
McKenna and Alejah Brown, Great Grandchildren – Kristen and
Hudson Neiswonger, Rhiannon Caldwell, Lennon Watkins,
several nieces and nephews. In addition to his parents, he was
preceded in death by his wife, Mary L. Ozio Brown, whom he
married June 27, 1959 in Altoona, PA., who died November 15,
2009, 3 Brothers – Robert, George and Raymond Brown, 1 Sister –
Helen Brown.
Friends may call at the Donald E. Lewis Funeral Home, Inc., 304
East Street, Warren, PA., on Sunday, May 27, 2018, a vigil service
will be held at 1:45 P.M. and visitation hours will be from 2 to 4
and 6 to 8 P.M. There will be nothing observed Monday, May 28,
2018.
A Mass of Christian Burial will be conducted Tuesday, May 29,
2018 at 10:00 A.M. at St. Joseph R.C. Church, 600 Pennsylvania
Avenue West, Warren, PA., with Fr. Richard Tomasone, Pastor,
officiating. Interment will be in St. Joseph R.C. Cemetery where
members of the U.S. Navy and Clarendon/Sheffield V.F.W.
Funeral Detail will provide full military honors. Those wishing to
place memorials may do so through St. Jude Children's Research
Hospital, 4600 Fairfax Drive, Suite 102, Arlington, VA 22203 or
Shriners Children's Hospital, 1645 West 8th, Erie, PA. 16505. E-
mail condolences may be sent by visiting