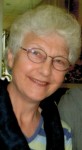 Mary Titulaer Danielson, 70, of Warren, PA, passed away on Tuesday, May 19, 2015 at the John and Orpha Blair Hospice Home.
Born on October 20, 1944 in The Hague, Netherlands, she was the daughter of the late Frans and Cornelia De Nijs Titulaer.
Mary was formerly employed with environmental services at Warren General Hospital. She enjoyed bike riding, knitting and loved her family, especially her grandson, Basil. She had a tough, brave, self-less spirit.
Surviving are her daughter, Andrea Danielson White and her husband, Jacob, of Pittsburgh, PA, her grandson, Basil Augustus White, one brother, Frans Titulaer of Spain, a half-sister, Michelle Titulaer of the Netherlands, three nieces, Marsha, Misha and Elja Titulaer and great-nephew Luuk and great-niece Michelle. Mary is also survived by her former husband, William Danielson of Fredonia, NY.
The family will receive friends from 4-7 P.M. on Friday, May 22, 2015 at the Donald E. Lewis Funeral Home, Inc., 304 East Street, Warren, PA. Those wishing to place a memorial may do so through Paws Along the River, 212 Elm Street, Warren, PA 16365. E-mail condolences may be sent by visiting www.lewisfuneralhomeinc.com