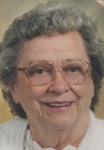 Marjorie H. Danielson, 86, a resident of the Warren Manor Nursing Home since December 2010, and formerly of Barnes, Pa. and Clearwater, Fla., died Friday, January 23, 2015, at Warren Manor.
She was born August 10, 1928 in Barnes, Pa. to the late Walter and Letitia Hover.
Mrs. Danielson graduated from Sheffield High School in 1946 and from the Pinellas Vocational Technical Institute in Clearwater, Fla. in 1984. She lived in Florida from 1965 to 1995 and worked as a bookkeeper for several mortgage and construction companies as well as a licensed practical nurse. Though her last job was in health care, her favorite job was pricing the building components for new houses.
She enjoyed reading, quilting, gardening, playing cards and canning fruits and vegetables. She was a member of Barnes United Methodist Church and St. Paul United Methodist Church in Largo, Fla., where she sang in the choir for several years. She also was a member of the VFW Auxiliary in Sheffield and the social club at the Sheffield Senior Center. In Florida, she belonged to the American Legion Auxiliary and Pilot Club International.
Mrs. Danielson is survived by three sons, Jay Billstone and his wife Billie of Lander, Pa., Richard Danielson and his wife Cynthia Kibby of Clearwater, Fla., and James T. Danielson of Barnes, Pa., as well as 10 grandchildren and seven nieces and nephews. She was a loving and supportive mother whose life was centered on family, home and church. She baked great apple pies, and dinner never ended without her asking, "Did you get enough to eat?"
In addition to her parents, Mrs. Danielson was preceded in death by two husbands, Dr. Harry A. Danielson, whom she married May 27, 1961 in Warren, Pa., and who died March 23, 1988, and John E. Pero, whom she married January 18, 1994 in Clearwater, Fla., and who died September 30, 1996, as well as by her brother, the Rev. Bertrand R. Hover of Meadville, Pa., who died February 4, 2007.
Friends may call at the Donald E. Lewis Funeral Home, Inc., 304 East Street, Warren, Pa. from 2 to 4 p.m. and from 6 to 8 p.m. Wednesday, January 28, 2015. A funeral service will be held at Barnes United Methodist Church at 11 a.m. Thursday with the Rev. Dennis Johnson, Pastor, officiating. Interment will follow in the Barnes Cemetery. E-mail condolences may be sent by visiting www.lewisfuneralhomeinc.com