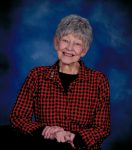 Marilyn A. Frycklund, 84, of Warren, PA., died Monday evening,
September 18, 2017 at the Rouse Warren County Home,
Youngsville, PA. She was born May 11, 1933, in Warren, PA. She
was the daughter of Guy E. and Leona M.A. Fronberry Albaugh,
Sr. Marilyn had resided her entire life in Warren and was a 1951
graduate of Warren High School. She was employed with the
former Warren National Bank, Taylors Pharmacy where she was
bookkeeper for her husband's Pharmacy for 20 years, Carnahan's
Clothing Store and Gaughn's Drug Store. Marilyn was an avid
Pittsburgh Pirates fan and was very proud of attending and
seeing the upset win for Pittsburgh over the New York Yankees
during the 1960 World Series, when Bill Mazeroski hit the 9th
inning homerun, for the win. At the age of 78, she became a
Pittsburgh Penguins fan and enjoyed going to Hockey games in
Pittsburgh. Marilyn's pride and joy was her family, especially her
grandchildren. She was an avid reader, and enjoyed crossword
puzzles and classic movies. She had been a volunteer with PTA,
former member of Eastern Star. Marilyn was a member of First
United Methodist Church where she was a former choir member
and Sunday School Teacher.
She is survived by her 3 children – Sue Montour and husband,
John and Nancy Chan and husband, Bill all of Warren, PA.,
Robert Frycklund and wife, Shannon of Lehighton, PA., 2
Brothers – Charles Albaugh and wife, Marilyn of Ludlow, Mass.,
Guy E. Albaugh, Jr. and wife, Mary of Albuquerque, N.M., 9
Grandchildren – Gabrielle and Andrew Enserro, Blake and Ian
Montour, Jade and Jasmine Chan, Cole, Cobe and Olivia
Frycklund, several nieces and nephews. In addition to her
parents, she was preceded in death by her husband of 40 years,
Robert Frycklund whom she married September 16, 1961 at St.
Paul Lutheran Church, Warren, PA., whom died September 9,
2002.
Friends may attend a Memorial Service, Saturday, September 23,
2017 at 11:00 A.M. at First United Methodist Church, 200 Market
Street, Warren, PA., with Rev. Dr. Mark Hecht, Pastor, officiating.
Interment will be in the church memorial gardens. Those wishing
to place memorials may do so through the Erie Shriner's Hospital
for Children, 1645 W. 8th Street, Erie, PA. 16505. E-mail
condolences may be sent by visiting
www.lewisfuneralhomeinc.com The Donald E. Lewis Funeral
Home, Inc. has been entrusted with funeral arrangements.