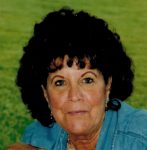 Lucy Mazzone Cook, 79, of Warren, PA, died unexpectedly Tuesday, September 5, 2017, at Warren General Hospital following a brief illness surrounded by her loving husband, children and grandchildren.
Lucy was born in Jamestown, NY on December 3, 1937, the daughter of the late Joseph and Sarah Guaneri Mazzone. She graduated in 1955 from Jamestown High School and worked as a waitress in her family's pizza's business, "Mike and Sam's" on Allen Street until she met and married her one true love, Glenn W. Cook, Jr., who survives her. Besides being a wife and mother Lucy worked for many years at Warren Car Co. After raising her family, in 1979 Lucy and Glenn moved into their dream home in Clarendon, PA, where her grandchildren grew up playing in the creek that ran through their yard and learning about the wonders of wildlife. Lucy then went to work as secretary of Mead Township where she worked until her retirement in 2000. Shortly after this Lucy was stricken ill with a disease that paralyzed her from the neck down. She was told that she would never walk again, but through her family's urging and Lucy's own determination not only did she walk again, but went on to dance at both granddaughters weddings, in 2005 and 2009.
Lucy was a very outgoing and social person, anyone that met her fell in love with her strong spirit and knack for saying what she thought. There was nothing that could keep her down. She belonged to many clubs including the Eagles Club Women's Auxiliary, Past President of the Clarendon Vets Club Auxiliary, Moose Lodge Auxiliary and American Legion Women's Auxiliary. She attended Covenant United Methodist Church and was a faithful attendant until she became ill. Of the many friends Lucy had in the community she most enjoyed what she referred to as her "Coffee Club," a group of special friends she became close to and saw every week, sometimes twice a week. Those close friends were Carole Wolfe, Virginia "Ginny" Sturdevant, Donna Miller, Joan Tridico, Kay Gray, and Vicki Parker, and Ida Jean Kitelinger. Lucy was living proof that you need to grab on to life and make that journey count, something she did every day. She loved to golf, play bocce, swim exercises at the YMCA and never missed her Thursday night Bingo at the Eagles Club. She also enjoyed occasional trips to the casino and was an avid Buffalo Bills fan.
Surviving is her husband of 59 years, Glenn W. Cook, Jr., her son – Mark (Karan) Cook, Daughters – Kathleen Cook, Diane (Don) Johnson; 7 grandchildren – Kari (Jesse) Lauffenburger, Matthew Cook, Randi Cook, Danielle (Daniel) Day, Joshua Watson, Emily and Colby Johnson; 5 great-grandchildren – Tyler Spear, Kaylie Lauffenburger, Daniel, Ellianna and LauraLyn Day; brother and sister in law, Curtis and Dorothy Hanson, sister-in-law – Sylvia Huber, Goddaughter – Sarina Thomas; many nieces and nephews including special nieces Shirley Bush, Mary Jane Ciancio and Laurie Carlson. In addition to her parents Lucy was preceded in death by in-laws – Glenn W. Cook, Sr., and Margaret Cook, brothers – Thomas, Frank, James, Philip "Mickey", Joseph, and Samuel "Shorty" Mazzone; and three sisters – Annette Bush, Sarah Vanevery, and Dominica Deppas.
Friends may call at the Donald E. Lewis Funeral Home, Inc., 304 East Street, Warren, PA., on Friday, September 8, 2017 from 2-4pm and 6-8pm. Funeral and committal services will be held Saturday at 10:00A.M. at the funeral home with Rev. Ralph Culp officiating. Interment will be in Pine Grove Cemetery, Russell, PA. Those wishing to place a memorial may do so through the Warren Cancer Center, 2 Crescent Park, Warren, PA., 16365, or to a charity of one's choice. E-mail condolences may be sent by visiting www.lewisfuneralhomeinc.com