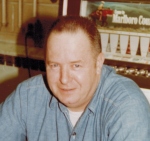 John Paul "Jack" Malone, 83, of Cambridge Warren, and formerly of McDonald, PA, passed away Saturday, September 27, 2014.
Jack was born in McKeesport, PA on December 30, 1930, the son of the late Edward J. and Margaret Toohey Malone. He is survived by two sisters, Margaret Paul of Warren, PA and Ann Verbanic of Haber Heights, OH. Jack is also survived by five nephews, Douglas Paul, David Paul, John Paul, all of Warren, PA, Mike Verbanic of Ohio, and Mark Verbanic of Indiana, two nieces, Catherine Schenkein of Richmond, VA and MaryAnn Ray of Cabot, Arkansas, 17 great nieces and nephews and many cousins. Besides his parents, Jack was preceded in death by a brother, Edward J. Malone and a sister, Genevieve Little, brothers-in-law Lloyd J. Paul and Scotty Little and a sister-in-law, Irma Malone.
Jack was a 1948 graduate of Union High School in Burgettstown, PA. He was a Staff Sergeant with the 79th Engineering Co. in the U. S. Army and stationed in Japan for 3 years during the Korean War. He was a member of the American Legion and a lifetime member of the V.F.W. He helped build the first atomic power station in the world at Shippinport, PA on August 26, 1977. He worked there at the Elrama Power Station, now known as Duquesne Light Co., for 32 years. He was a member of Holy Redeemer R.C. Church in Warren, PA and St. Alphonsus R.C. Church in McDonald, PA. Jack was a quiet, gentle man whose first love was for his family and he took great interest and pride in all their accomplishment in life.
Friends may call from 4:00pm – 8:00pm Tuesday, September 30, 2014 at the Nation Funeral Home, Inc., 218-220 East Lincoln Avenue, McDonald, PA. A Mass of Christian Burial will be conducted at 10:00 A.M. Wednesday, October 1, 2014 at St. Alphonsus R. C. Church, 219 W. Lincoln Avenue, McDonald, PA with Fr. Ben Vaghetto officiating. Interment will be in Robinson Run Cemetery, McDonald, PA. Those wishing to place memorials may do so through Holy Redeemer R. C. Church Building Fund, 11 Russell Street, Warren, PA, 16365 or to the St. Alphonsus R. C. Church Building Fund, 219 W. Lincoln Avenue, McDonald, PA 15057. Local arrangements have been entrusted to the Donald E. Lewis Funeral Home, Inc., 304 East Street, Warren, PA. E-mail condolences may be sent by visiting www.lewisfuneralhomeinc.com