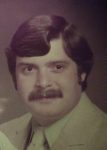 John Gus Cottillion, 66, of Sarasota, FL and formerly of Warren,
PA., died at 3:10 A.M. on Sunday, April 22, 2018 at his residence,
after a battle for 7 years with Lewy Bodies Dementia.
He was born August 27, 1951 in Warren, PA, to the late Gus J. and
Anna Apostalakos Cottillion. He was a Warren area and Florida
resident for 25 years respectively and formerly of Louisville, Ky,
Columbus, Oh., Omaha, Ne. John was employed as Vice
President of Marketing and Planning for numerous hospitals,
most recently with Sarasota Memorial Hospital. He was baptized
at St. Nicholas Greek Orthodox Church of Jamestown, N.Y., and a
member of St. Barbara's Greek Orthodox Church, Sarasota, FL.
He had served as an altar boy as a child, and volunteered later for
events. He was an Eagle Scout with the Boy Scouts of America,
member of American College of Healthcare Executives and
awarded Man of the Year several times in the healthcare industry.
He is survived by his son and daughter in law, whom were his
caregivers, Adam Dean Cottillion and Jessica Nicole
of Sarasota, FL., daughter, Allison Anastasia Eargle and husband,
Lemuel O'Neal Eargle, Jr. of Chapin, S.C.
Former wife of 33 years, Elizabeth Cottillion whom he married
June 24, 1976 in Warren, PA., 4 Grandchildren – Donovan
Constantine Cottillion, Preston Wayne Stevens, Bruce Jacob
Faust, Skylar Kent Cottillion.
Friends may attend a funeral service on Tuesday, May 1, 2018 at
10:00 A.M. at St. Nicholas Greek Orthodox Church, 15 Francis
Street, Jamestown, N.Y. with Fr. Jarrod Russell, Presiding Priest,
officiating. Interment will be in Warren County Memorial Park,
Warren, PA. Those wishing to send e-mail condolences may do
so by visiting www.lewisfuneralhomeinc.com The Donald E.
Lewis Funeral Home, Inc. has been entrusted with funeral
arrangements.