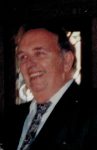 James R. Gunn, 83, of Warren, PA., died Saturday afternoon, October 21, 2017 at home after a lengthy battle with dementia. He was born October 18, 1934 in Beaver Falls, PA., to the late Sylvester "Red" and Elizabeth M. Flaherty Gunn.
He had served with the U.S. Army during the Korean War and spent time in Japan. Jim's career in the insurance industry began in Beaver Falls, PA., with Baltimore Life Insurance Company, during this time he met his wife, Margo where they started their family. They then moved to Lancaster, PA., in 1968 where his career thrived and the family grew. In 1978, Jim took a promotion and moved to Warren, PA., working with Baltimore Life until 1984. He then started with American General Life Insurance Company in 1985. He moved again to Columbus, OH after taking another promotion, where he retired. His love of Warren brought him back to spend his retirement. Jim enjoyed golf, hunting and fishing as his hobbies. He was a loving husband and father.
He is survived by 2 Sons – Blaine Gunn and wife, Lori of Warren, PA., Erik Gunn and wife, Amy, 2 Daughters – Amy Rohr and husband, Kevin all of Columbus, OH., Jenny R. Stroup and husband, Dean of Corry, PA., 2 Brothers – Thomas Gunn of Beaver Falls, PA., William Gunn and wife, Gloria of Ohio, 8 Grandchildren, 3 Great Grandchildren, several nieces and nephews.
In addition to his parents, he was preceded in death by his wife of 33 years, Margo L. McElroy Gunn whom he married April 5, 1961 in Beaver Falls, PA., who died May 14, 1994, 1 Brother – Edward Gunn.
Friends may call at the Donald E. Lewis Funeral Home, Inc., 304 East Street, Warren, PA., on Tuesday evening, October 24, 2017 from 5 to 7 P.M, when a funeral and committal service will be conducted at 7:00 P.M. with Rev. Marcus Briggs, Chaplain of the Rouse Warren County Home, officiating. Interment will be in Oakland Cemetery. Those wishing to place memorials may do so through American Cancer Society or the Alzheimer's Association. E-mail condolences may be sent by visiting www.lewisfuneralhomeinc.com