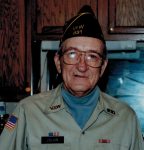 Jack L. Colvin, 77, of Warren, PA., died Wednesday afternoon, November 30, 2016 at Warren Manor Nursing Home after an extended illness. He was born July 27, 1939 in Warren, PA. Jack was the son of the late C. Jones and Mary Pauline Maze Colvin.
He was a lifelong Warren area resident and a 1958 graduate of Warren High School. Jack had served with the U.S. Air Force.
He was employed as a printer with the former Struthers Wells Corporation, retiring from there after many years of service, he had also worked with Pellegrino Foods.
He was a member of the Warren American Legion Post 135.
He is survived by his two children – Kenny Colvin of Kane, PA., and Kim Colvin of Warren, PA., 1 Brother – Phillip Colvin, 2 Sisters – Mary Martin and Donna Tutaro and husband, Joseph all of Warren, PA., several nieces and nephews.
In addition to his parents, he was preceded in death by 3 Sisters – Phyllis Power, Janice Cowles, Diane Carter, 1 Brother – Tom Colvin.
Friends may call at the Donald E. Lewis Funeral Home, Inc., 304 East Street, Warren, PA., on Monday, December 5, 2016 from 10:00 A.M. until 11:00 A.M. when a memorial service will be conducted by Rev. Bill Hargenrader, Pastor of First Church of God, officiating. Interment will be in Warren County Memorial Park. Full military honors will be conducted by members of the Clarendon/Sheffield V.F.W. Funeral Honor Guard and U.S. Air Force Funeral Detail. Those wishing to place memorials may do so through Disabled American Veterans, P.O. Box 14301, Cincinnati, OH 45250-0301. E-mail condolences may be sent by visiting www.lewisfuneralhomeinc.com