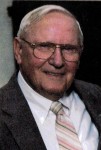 George C. (Clint) Mong, age 90, of Warren, PA and formerly of Sebastian, FL, died February 21, 2014 at Warren Manor after a brief illness and took off for the Aerodrome in the sky. He was born October 6, 1923 in Oil City, PA to the late Harold C. and Lily Rodamal Dimond Mong.
He was a 1940 graduate of Kinzua High School, and then went to work for the former South Penn Oil Company in the Bradford area as a roust-about and tractor driver. He enlisted and served for 28 years in the United States Air Force serving as a pilot during World War II, the Korean Conflict and the Vietnam War retiring in 1970 as a Lt. Col., having been stationed in Alaska, Southeast Asia and Europe. He also attended college at Baylor University, Waco, TX and Anchorage (Alaska) Community College. He was a command and instructor pilot of various types of military aircraft. He was shot down July 13, 1944 on a mission to Munich, Germany. He bailed out over France and evaded capture with the help of the French underground. He continued to celebrate that anniversary every year with his left waist gunner, Pat Markham of Ripley, NY.
He was a former member of Trinity Memorial Episcopal Church, a 32nd degree Mason with the Tyrian Lodge 111 of Warner Robbins, GA; the Consistory of Macon, GA; Heroes of 76, Cape Canaveral, FL Chapter of the National Sojourners; life member of the Retired Officers Association; and the American Legion Post 747. His hobbies included raising beagle dogs, owning a fruit farm in Florida after his retirement, gardening and in later years traveling to military reunions with his nephew Richard A. Lawson (Warren, PA). He also served on the Kinzua Reunion Committee for many years.
He is survived by sister-in-law Martha Mong (Warren, PA); daughter-in-law Pat Mong (Melbourne, FL); grandson Kyle Mong (Orlando, FL); step-grandson Jeff Edwards (Melbourne, FL); nieces Sue Mong (Warren, PA), and Kim Main (Emmaus, PA) and nephews Harold Mong (Jamestown, NY) and Dan Mong (Akron, OH). In addition, he is survived by several additional nieces, nephews and cousins. In addition to his parents, he was preceded in death by his step-mother, Grace K. Mong; his wife Elizabeth R. Riley; who died July 6, 2002, son Thomas E. Mong; three brothers – Harry W. Mong, James L. Mong and Allison W. Mong; two sisters – Faith N. Mong and Ida L. Mong.
The family would like to thank all of the caregivers and family that provided 24 hour support to George so that he could remain in his home on the river the last several years.
Friends may call at the Donald E. Lewis Funeral Home, Inc., 304 East Street, Warren, PA on Wednesday, February 26, 2014 from 11am until 1pm at which time funeral and committal services will be held with the Rev. Martin Reynolds, Pastor of the Clarendon United Methodist Church, officiating. Interment will be in the Mt. Zion Cemetery, Redbrush, Forest Co., PA. Full military honors will be conducted at the funeral home by members of the Clarendon/Sheffield V.F.W. Funeral Detail and U. S. Air Force military personnel. Memorial contributions may be made to the Warren County Humane Society, "Paws Along the River," 212 Elm Street, Warren PA. Those wishing to submit e-mail condolences may do so by visiting www.lewisfuneralhomeinc.com.