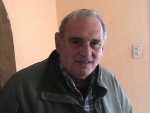 Frank Joseph Campagna, Jr. 79, of Warren, PA., died
unexpectedly Sunday, August 27, 2017 after suffering an apparent
heart attack at his home. He was born May 23, 1938 in Warren,
PA., to the late Frank and Donna Belle Chappel Campagna, Sr.
Frank was a lifelong Warren area resident and a 1956 graduate of
Warren High School. Frank had served with the U.S. Army,
during the Vietnam War, as a Private First Class with the 94th
ordinance company, where he earned a good conduct medal.
He was employed for 38 years with the former G.T.E. Sylvania,
working in the wire department, retiring in July 2003. He had
served as a little league coach, enjoyed Johnny Cash music and all
country music, he especially enjoyed watching the Bill Cosby
Show. In his younger years, he was an avid boxer. He was a
lover animals and animal rights, especially enjoyed dogs.
He is survived by his wife of 42 years, Delphine L. Johnson
Campagna whom he married November 23, 1974 in Warren, Pa.,
3 Children – Cheryl Hibbard and Frank J. Campagna, III both of
Maine, Anita Harris and husband, John of Corry, PA., 1 Sister –
Mary Ann Cross and husband, Fred of Warren, PA., several
grandchildren, including Corey and Krissa Burt, Skylar and
Caden Beckford, Nevaeh Harris, 4 Great Grandchildren,
including Slenen Bender, several nieces and nephews.
In addition to his parents, he was preceded in death by 1 Sister –
Doris Campagna.
Friends may call at the Donald E. Lewis Funeral Home, Inc., 304
East Street, Warren, PA., on Tuesday, August 29, 2017 from 6 to 8
P.M. where a funeral service will be conducted Wednesday,
August 30, 2017 at 11:00 A.M. with Rev. Madeline Edwards,
Pastor of Emmanuel United Church of Christ, officiating.
Interment will be in St. Joseph R.C. Cemetery. Full military
honors will be conducted by the U.S. Army personnel and the
John Gertsch Memorial Vietnam Chapter funeral detail. Those
wishing to place memorials may do so through American
Diabetes Association, Western Pennsylvania Chapter, 2 Chatham
Center, Suite 1520, 112 Washington Place, Pittsburgh, PA. 15219.
E-mail condolences may be sent by visiting