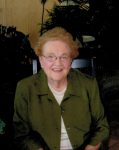 Evelyn E. Boyd, 93, of Warren, PA., went home to our Lord,
Friday, November 18, 2016 after a brief illness at Cambridge
Warren, Warren, PA. Born on September 21, 1923, the daughter
of Edwin Rush and Alice Mary Koebley Boyd. Ms. Boyd was a
graduate of Warren High School Class of 1941. She was initially
employed by New Process Company (Blair Corporation), later
transitioning to Warren Bank and Trust Company. She retired
from Integra Bank as an Assistant Trust Officer after twenty-
seven years of dedicated service.
Ms. Boyd was involved in numerous acts of service to the
community. A faithful member of Grace United Methodist
Church since 1933, she spent several years teaching at the weekly
Sunday School and serving on various committees of the
Administrative Board. Her commitment to the support and
advancement of women was especially notable, serving as the
president of the United Methodist Women and former Girl Scout
leader of Troop 92. As a mark of her ongoing commitment,
leadership, and service to the Girl Scout Movement, she was a
proud recipient of the Thanks Badge and noted as an impactful
member of the Girl Scout Community in Warren County and
beyond. In addition to her involvement at Grace U.M. Church,
she delivered Meals on Wheels for a number of years and
volunteered for the Are You O.K. program in assistance of elderly
and shut-in community members.
Ms. Boyd enjoyed traveling the world and spending time with
her friends and family. She was an avid reader, enjoyed
journaling and spending time outside gardening or taking a
leisurely bike ride. She spent a brief period of time living in
Titusville, PA., before returning home to Warren. She was never
afraid to speak her mind, had a good sense of humor, and her
heart was as big as the great outdoors.
In addition to her parents, she was preceded in death by her
brother, Frederick J. Boyd, 2 nephews – Dennis R. and Douglas J.
Boyd.
She is survived by her brother, Wilson R. Boyd, Sister-in-law,
Ruby Boyd, two nieces, Christine A. Boyd and Renee Heinbuch,
two great-nephews, Michael D. Boyd and Steven Boyd, 1 great-
niece – Beth T. Boyd.
There will be no visitation hours observed. Friends are invited to
attend a funeral service Wednesday, November 23, 2016 at Grace
United Methodist Church at 11:00 A.M. with Rev. Rich Pearson,
Pastor, officiating. Interment will be in Oakland Cemetery.
Those wishing to place memorials may do so through Grace
United Methodist Church, 501 Pennsylvania Avenue East,
Warren, PA., 16365. E-mail condolences may be sent by visiting
www.lewisfuneralhomeinc.com The Donald E. Lewis Funeral
Home, Inc. has been entrusted with funeral arrangements.